Analysis
Warehouse management system is a vital part of the supply chain strategy as it controls the movement of goods and storage materials within the warehouse. This includes the processes associated with transactions such as receiving, shipping, put away and picking. Warehouse management systems also direct and make most out of stock that has been put away based on the actual standing of bin operation. Therefore warehouse automation is entire warehouse management cycle from the point that goods are received at the warehouse up to the delivery of customer's orders.
Major factors which are driving the warehouse management system growth are increasing technological investment in economically developing regions such as Asia-Pacific and emergence of e-commerce. In addition, high demand from industrial and healthcare sector in developing countries is fueling the warehouse management system market growth. Technological development such as cloud-based warehouse system is propelling the demand of warehouse management system market. However, costly deployment of warehouse management system solution is hindering the growth of warehouse management system market. Nonetheless, rising demand for the advance ware house management system will fuel the market growth over the forecast period.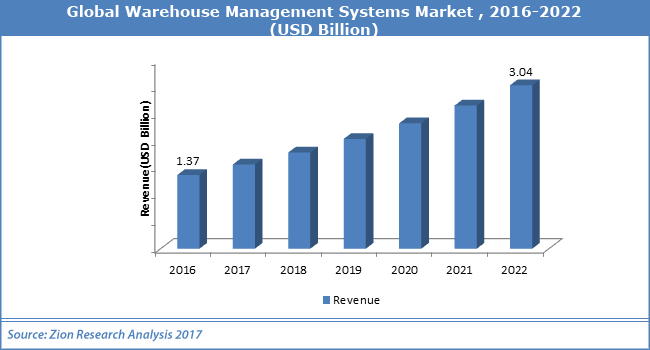 Global warehouse management system market is segmented on the basis of component and application. The components included in warehouse management system are software and services. Further, the software is bifurcated into cloud and premise. Service component segment is witnessing significant growth at present. However, cloud-based warehouse management system is likely to witness immense growth during the course of the forecast period.The end-user applications of warehouse management system are retail, pharmaceutical, electronics, food &beverage and others. Among these applications, pharmaceutical segment held largest share in2016.
Europe is leading the warehouse management system market due to high penetration in healthcare and industrial sectors. Europe is followed by North America. Warehouse management system extends its footprint in North America owing to rising demand from various sectors such as food manufacturing, agricultural, beverages, cosmetics, logistics and medical devices.Economically emerging countries such as China, India, and Japan in Asia Pacific region are dominating the ware house management system market due to high investment in technology. Adoption of barcode technology and RFID chips are escalating the growth of warehouse management system market in Asia Pacific.
Key participants in the warehouse management system market are HighJump Software, Infor Inc., LogFire Inc., Tecsys, Inc., Manhattan Associates Inc., Made4net LLC, Oracle Corporation, SAP SE, Reply, Softeon, Inc., JDA Software Group, Inc., and Synergy Logistics Ltd.
Further, Indigo Software, Produmex, SmartTurn, Justransform, Swisslog WMS, SNS, Provia Software, EXE Technologies, Infor/SSA Global, Royal 4 Systems' Warehouse Information System, Snapfulfil, Synergy Ltd., ERCIM, Yobel SCM, NUO Consulting, and GCM Business Consulting & Technology are some other players in warehouse management system market.