Analysis
Vision sensors are deployed in numerous enterprises and factories for determining the existence and overall orientation with the help of captured camera images. Vision sensors are installed with specific systems or applications that guide in deciding a product's operation or failure status. These sensors support the human-machine interface (HMI) development and communicate with the factory floor.
The global vision sensor market is growing rapidly, owing to the rising product demand by various enterprises and the industrial sector due to the many advantages of vision sensors. Numerous companies across diverse sectors are focusing on the implementation of vision sensors to recognize the accuracy, presence, and orientation of products, which helps in optimizing the process flow. Additionally, these sensors also help in reducing waste by removing non-saleable products. Moreover, these sensors complement larger machinery or systems and offer built-in Ethernet communications and support single and multiple-point assessments with dedicated processing. The rising demand for vision sensors for the use of quantity detection and measurement in the automotive industry is also expected to drive the vision sensor market growth. Furthermore, flourishing automotive industry and advancements in technology are further stimulating the global growth of the vision sensor market. Currently, automation is among the topmost technological revolution and holds significant importance across numerous industry verticals. The rising number of automation applications globally is also boosting this market. In addition, rapid growth for high-quality image sensor is further supporting market demand. However, the dynamic nature of the semiconductor industry may hinder the global vision sensor market in the future.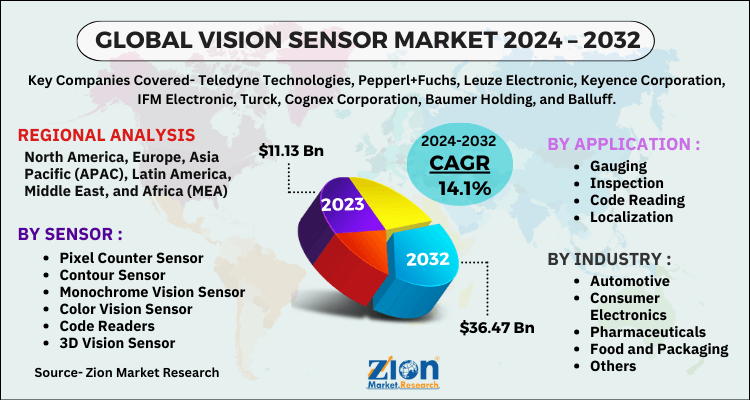 The global vision sensor market is fragmented on the basis of sensor, application, and industry. Based on sensor, the market includes pixel counter, contour, monochrome vision, color vision, code readers, 3D vision, and others. The 3D vision sensors segment will hold a notable share over the projected time period. 1D and 2D sensors, such as monochrome, color, and code readers, are expected to witness a rise in demand by the automotive industry for part inspection applications, pharmaceuticals and food and packaging industries for sorting and text and character recognition.
North America is predicted to hold a sizeable share of the global vision sensor market in the years ahead, owing to the early adoption of industry 4.0 and the rising number of smart factory projects. Additionally, the growing demand for machine vision applications in food and packaging and automotive industries is also projected to drive this regional market.
Some major players of the vision sensor market are Teledyne Technologies, Pepperl+Fuchs, Leuze Electronic, Keyence Corporation, IFM Electronic, Turck, Cognex Corporation, Baumer Holding, and Balluff.