Analysis
Virtual reality (VR) is the creation of a simulated virtual environment that provides real-life sensory experiences to a person. It creates a highly immersive, visual, and 3D environment where an individual can perform a series of tasks and manipulate virtual objects. This virtually created environment is either a simulated world or real, in which an individual can interact with the characters and objects. The virtual treatment has various advantages over conventional treatments, such as virtual treatment eliminates using complex invasive surgical procedures and drugs in treatment, which helps in saving time and cost.
Some major factors driving the virtual reality in healthcare market are rising innovative diagnostic techniques demand, growing neurological disorders incidences, and an increasing number of disease awareness programs. Additionally, substantial advancements in the field of IT have further boosted this global market's growth. Healthcare is one of the biggest adopters of virtual reality since, as it comprises phobia treatment, surgery simulation, skills training, and robotic surgery. In terms of medical training, VR has the ability to transport medical professionals inside the human body to view and access areas that are otherwise impossible to reach. VR surgeons can view even the minute details of a body part and create training scenarios that replicate common surgical procedures. Virtual reality plays an important role in robotic surgery, patient education, psychological and mental health therapy, and pain management, and physical therapy.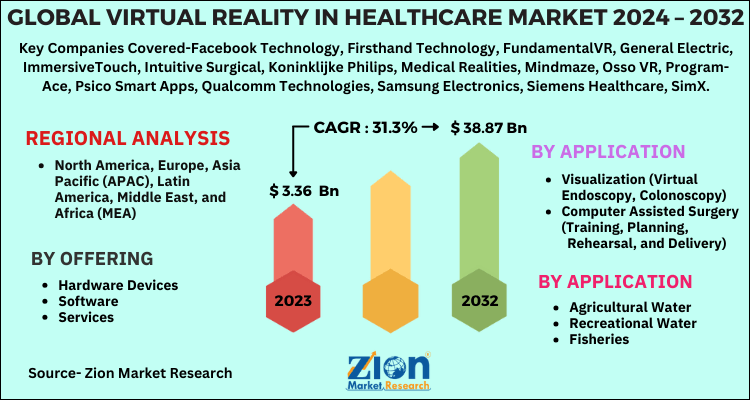 The virtual reality in healthcare market is fragmented on the basis of offering, application, and end-user. By offering, the market includes software, services, and hardware devices (head tracking systems, non-immersive systems, head-mounted displays, and others). Based on application, the virtual reality in healthcare market is divided into computer-assisted surgery, visualization, dentistry, radiotherapy, mental health, psychological therapy, and post-traumatic stress disorder (PTSD), phobias, disability and rehabilitation, pain management, telehealth, medical training/teaching/determining level of skill, and others. On the basis of end-user, the virtual reality in healthcare market is segmented into clinics, and surgical centers, hospitals, diagnostic laboratories, healthcare institutes, and others.
North America dominated the virtual reality in healthcare market in 2018, due to excellent and supportive healthcare coverage and advancements in technology. The U.S. leads this regional market for virtual reality in healthcare, due to the prevalence of psychological and neurological disorders and the presence of sophisticated healthcare infrastructure. The market vendors are highly focused on offering value-based pricing models based on customer needs and value perception. The Asia Pacific market is likely to register the highest CAGR, as countries like China, Japan, and India have emerged as the most preferred destinations for faster adoption of the latest healthcare technologies.
Some leading players of the virtual reality in healthcare market are Facebook Technology, Firsthand Technology, General Electric, FundamentalVR, ImmersiveTouch, Intuitive Surgical, Koninklijke Philips, Medical Realities, Mindmaze, Osso VR, Program-Ace, Psico Smart Apps, Qualcomm Technologies, Samsung Electronics, Siemens Healthcare, SimX, Surgical Theater, Vicarious Surgical, and zSpace.