Free Analysis
Ceiling fans are one of the best-selling varieties of the fan in the U.S. Ceiling fans utilize hub-mounted rotating paddles in order to produce a cooling effect as a result of air circulation. The circulation of air creates a cooling effect that makes a person feel cooler. Usually, ceiling fans range from 24 inches to 60 inches in diameter. Fan manufacturers usually compare fan size with room area. Ceiling fan plays important role in reducing the load on air conditioning systems. The assembling method of ceiling fan varies with different models or types of the ceiling fan.
Ceiling fans are comparatively inexpensive and several homeowners find their installation an easy DIY (do it yourself) project, especially if an electric ceiling box is already present. Home ceiling fan market is mainly driven by increasing need for saving cooling cost in the home. A ceiling fan helps to make home more energy efficient and easy installation helps to boost the demand of ceiling fan across U.S. In addition, low maintenance of ceiling fan is expected to support substantial growth of the market during the forecast period. Benefits of home ceiling fan such as gentle air circulation in the room drives their adoption in U.S. Some of the novel opportunities in ceiling fan market include development of energy efficient products and resurging housing sector in U.S. However, declining residential construction spending and availability of substitute may hinder the growth of home ceiling fan market in the years to come.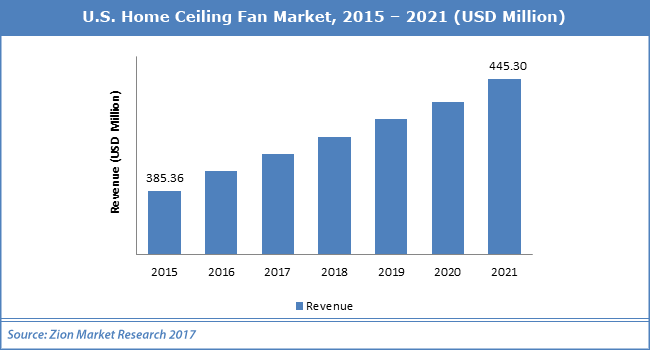 Decorative, energy saver, high speed, designed with light, four blade and others are the type segment of home ceiling fan market. The decorative type segment of home ceiling fan market was the fastest growing segment in 2015. It acquired the largest revenue share of the total home ceiling fan market in the same year. Decorative ceiling fan dominated the home ceiling fan market with more than 23% share of the total revenue. It is expected to continue this trend during the forecast period due to high disposable income and changing lifestyle in the region.
U.S. home ceiling fan market is highly competitive, with the presence of well-established market participants. Fanimation, Casablanca Fan Company, Hunter Fan Company, Minka Group, Home Depot, Hunter fan, and Montecarlo fans are some of the key vendors in the market.
Many players in U.S. offer variety of ceilings fan with various features and specifications. On August 2016, one of the leading manufacturers of the ceiling fan in U.S. named Hunter Fan Company officially released their highly anticipated Wi-Fi enabled, Signal ceiling fan for purchase. Such technological advancements in ceiling fan are anticipated to open new opportunities in coming years. In addition, Casablanca Fan Company has unveiled its 2016 Collection of designer ceiling fans in April 2016. These eight new designs include products named Orchid, Stingray, Perseus, Glen Arbor, Piston, Correne, Wisp and Duluth.