Free Analysis
One of the surgical procedures performed commonly among children to prevent the accumulation of fluid in the ears involves the use of a tympanostomy tube. It is inserted into the ears. It is a small tube, also known as myringotomy or grommet tube, which is used to aerate the middle ear for a long period of time along with protecting the middle ear. Anesthesia is used either locally near the ears or via a general method. This tube is kept for a period of six months or for a prolonged period of two years. In some cases, it is also placed for four years. Children often experience ear infections that are very painful at the age of 5 or so. These infections are either bacterial or viral and need to be treated with care. Antibiotics are administered in case of a bacterial infection. These ear infections could lead to hearing loss and even behavioral problems.
The increased noise pollution, rise in the occurrences of hearing loss or impairment, escalation in healthcare expenses, and improvements in the technology used for ear surgery are boosting the tympanostomy tubes market globally. However, formation of bacterial biofilm on the tubes, rising expense of surgery, and untimely ear treatment may impede the tympanostomy tubes market.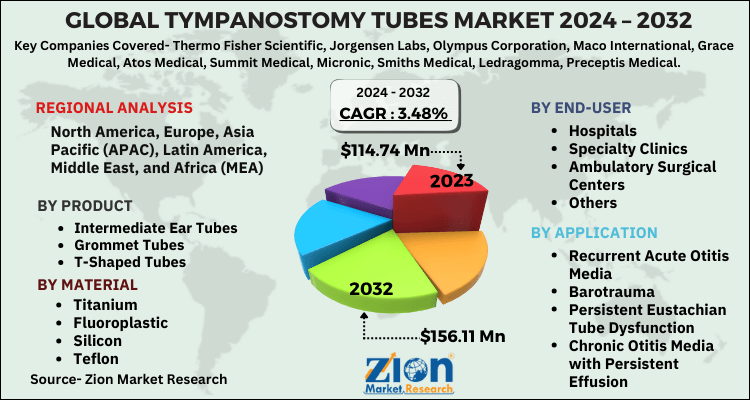 The tympanostomy tubes market is divided based on product, material, application, and end-user. Based on product, the market includes t-shaped tubes, intermediate ear tubes, and grommet tube. By material, the market comprises titanium, fluoroplastic, silicon, and Teflon. On the basis of application, the market is fragmented into recurrent acute otitis media, barotrauma, persistent Eustachian tube dysfunction, and chronic otitis media with persistent effusion. The end-user segment includes ambulatory surgical centers, specialty clinics, hospitals, and others.
North America is leading in the tympanostomy tubes market due to rising healthcare expenditure, increasing hearing impairment and difficulties in children in the U.S., and constantly developing technologies related to ear surgeries. Europe holds a large share of the tympanostomy tubes market, owing to rising ear infections cases, developing of technology for the treatment of ear-related diseases and complications, and increasing number of companies producing medical equipment for ears. The Asia Pacific will register significant CAGR in the tympanostomy tubes market in the future, owing to the active government campaigns to spread health awareness, rising willingness of people to spend more on healthcare, and a large number of players that are manufacturing and leading research about ear medicine and equipment.
Some key players in the tympanostomy tubes market are Thermo Fisher Scientific, Jorgensen Labs, Olympus Corporation, Maco International, Grace Medical, Atos Medical, Summit Medical, Micronic, Smiths Medical, Ledragomma, Preceptis Medical.