Analysis
A tire is a strong, tough, flexible rubber covering attached to the rim of a wheel. Tires are used in the trucks, aircraft, tractors, buses, industrial vehicles, motorcycles, bicycles, and others. Most of the tires for vehicles are pneumatic. Pneumatic tires are designed in such a way that air is held under pressure inside the tire. The inner tube in the tires is designed to hold the air pressure. Tires are the only contact between the vehicles and ground, thus it plays a vital role in ensuring that the vehicle is in control. The designing and material composition of the tires is significant to ensure optimum performance.
Increase in the automotive production is the major factor driving the market. The tire materials used in the automotive tires provide better traction, stability, and greater adhesive properties. These materials help in preventing internal damages, carry the extra load, and also offer a longer life than normal tires. Rising environmental concerns lead to the governmental regulations on emissions of vehicles. Thus, the preference for the electronic vehicles has witnessed an increase in the past years, which, in turn, is propelling the demand for tire materials. Moreover, an increase in the number of automotive vehicles and passenger vehicles leads to the rising demand for the tire materials. Therefore, such factors are anticipated to fuel the market growth during the forecast period.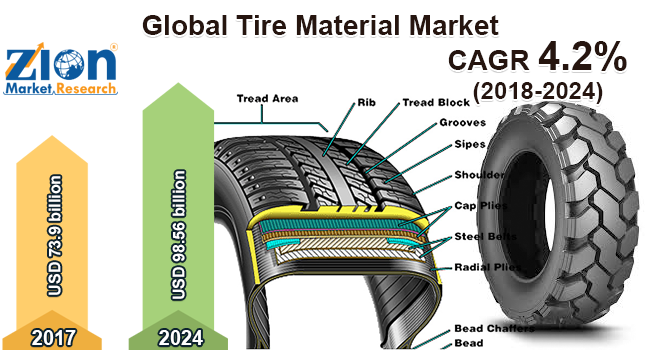 On the basis of type, tire material market is classified into elastomers, chemicals, reinforcing fillers, plasticizers, metal reinforcements, and textile reinforcements. Based on the vehicle type, the market is classified into light-weight commercial (LCV), passenger car (PC), heavy trucks, and buses.
Geographically, Asia Pacific is estimated to grow at the highest rate during the upcoming years in terms of both volume and value. The growth in this region is attributed to the easy availability of raw material. India and China are considered to be the major countries in contributing to the growth of the tire material market. Infrastructural facilities and skilled & cheap labor force are the aspects attracting the international automotive manufacturers to invest in the Asia Pacific. Thus, such factors are anticipated to boost the tire material market in this region. Moreover, Europe is expected to see a considerable growth rate during the forecast period. Increasing demand for the eco tires in the region is estimated to positively influence the market growth in upcoming years.
The strong players operating in the tire material market are JSR Corporation, Cabot Corporation, Lanxess, Thai Carbon Black, Bekaert, Columbian, The Goodyear Tire & Rubber Company. The other players in the market are Royal Dutch Shell, Orion Engineered Carbons, American Zinc Recycling LLC, Chevron Corporation, Exxon Mobil Corporation, China Petroleum & Chemical Corporation, Umicore SA, DMACK Tyres, and Exxon Mobil Corporation.