Analysis
Temperature monitoring devices are crucial for ensuring safe and efficient patient care. Temperature monitoring is also essential to avoid hypothermia or hyperthermia situations. Thermo regulation or temperature maintenance is essential to avoid any antigenic response, infection or inflammation. These devices gained significant preference owing to their cost-effectiveness and convenience and can be also used for home care. Monitoring temperature is more like the first line of treatment, helping physicians to assess the health status of patients for proper care. These devices comprise of diverse product types, which are used in a number of applications. Temperature monitoring thermometers are characterized by increasing product launches by emerging market players.
Enhancing essentiality of immediate, constant, and accurate temperature monitoring for proper treatment coupled with the advent of wearable and other technological advancements are some of the major drivers of Temperature Monitoring Devices Market. In addition to the advent of wearable and other technological advancements, improving healthcare infrastructure in various emerging economies and prevalence of several chronic diseases is resulting in increased demand for Temperature Monitoring Devices Market. However, lack of awareness in developing economies. Also, the high cost of temperature monitoring devices may restrain the market. High fever frequently leads to many diseases because of which the need for effective management of associated diseases is likely to boost the demand for Temperature Monitoring Devices Market in the coming years.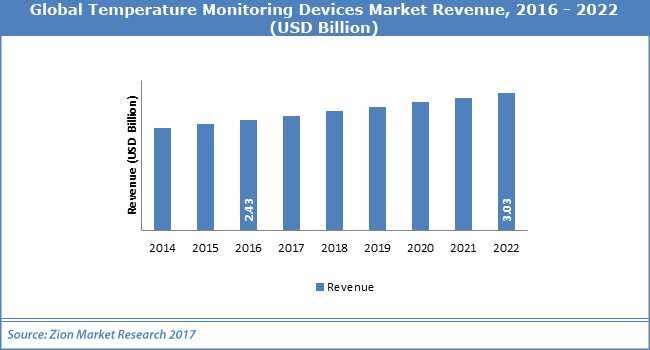 The Temperature Monitoring Devices Market is classified based on product, technique, application, distribution channel and region. On the basis of product, the market is divided into tabletop temperature monitoring devices, handheld temperature monitoring devices, wearable continuous monitoring thermometers, and temperature monitoring sensors & smart temperature patches. Tabletop temperature monitoring devices are further segmented as non-invasive vital signs monitoring devices and continuous core body temperature monitoring devices. Also, hand-held temperature monitoring devices are further subcategorized into digital thermometers and infra-red aural thermometers. On the basis of techniques, the market is segmented as invasive and non-invasive. On the basis of the application, the market is divided into clinical and wellness. Due to the faster, economical and more precise compared to other versions digital thermometers are preferred mostly. This type of devices also processes easy and quick. Owing to the all these reasons digital thermometers account for the largest market share. The most popular version of technology present in the market is battery operated flexible tip oral thermometers (handheld temperature monitoring devices).
On the basis of distribution channel market is divided into institutional sales and retail sales. The market is further sub-segmented on the basis of institutional sales as hospitals, clinics, skilled nursing facilities, long-term care centers, and ambulatory care centers. And on the basis of retail sales market is further divided into retail pharmacies, drug stores, and online sales.
By geography, North America dominates the Temperature Monitoring Devices Market owing to rising health awareness and increasing base of geriatric population in the region. Additionally, the presence of major market players, such as 3M Company, Merck, Helen of Troy Limited, and C.R. Bard, in the U.S. is anticipated to contribute significantly in the revenue generation of the country.
Owing to large population base India and China in the Asia Pacific region temperature monitoring devices market is growing at fastest growth rate. In Asia Pacific region enhancing health concerns and increasing numbers of healthcare facilities, these all factors are likely to drive the Asia Pacific market in the near future. Additionally, Countries like China and India many hospitals have shifted towards digital thermometers replacing the mercury-based thermometers. Latin America is another key regional market and is expected to moderate growth in the coming years owing to rising healthcare infrastructure and raising awareness among the people. The Middle East and Africa are anticipated to witness significant growth during the forecast period.
Some of the key players in Temperature Monitoring Devices Market include 3M Company, Omron Healthcare, Koninklijke Philips N.V., Terumo Corporation, Helen of Troy Limited, Cosinuss GmbH, Drägerwerk AG & Co. KGaA, C.R. Bard, Welch Allyn, Inc., Microlife Corporation, and Briggs Healthcare among others.