Analysis
Electronic transmission of superior quality pathological data by using telecommunications technology to practice pathology from a distance is known as telepathology. Telepathology services help in transferring superior quality image-rich pathological data in locations for education, research, and patient diagnosis. Telepathology is used for emergency services, obtaining expert opinion on referral cases, patient diagnosis at remote locations, meetings and conferences, quality assurance, and educational purposes. It is an emerging technology that helps in reaching patients in distant locations and delivers the best diagnostic interpretation to distant healthcare providers.
The growing prevalence of chronic diseases and technological advancements in the healthcare industry are likely to contribute to the global telepathology service market over the forecast time period. The surging clinical urgency to accept telepathology to improve present patient diagnostic imaging events and decrease the high costs associated with conventional diagnostics, which will also fuel this global market in the future. As geriatric people are more vulnerable to chronic diseases, the growing geriatric population base is likely to further propel the demand for technically advanced investigative tools, thereby boosting this market's growth globally in the years ahead.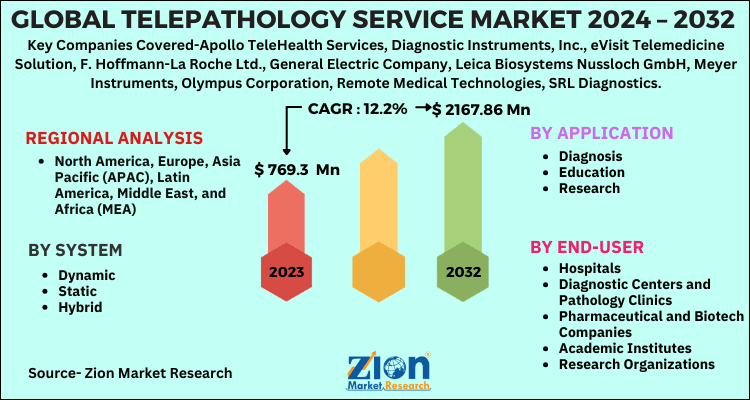 The global telepathology service market is divided into system, application, and end-user. On the basis of the system, the global telepathology service market is segmented into dynamic, static, and hybrid. On the basis of application, the global telepathology service market is segmented into diagnosis, education, research, and others. Based on end-user, the global telepathology service market is categorized into hospitals, diagnostic centers, and pathology clinics, pharmaceutical and biotech companies, academic institutes, and research organizations.
By geography, North America accounted for the largest share of more than 45% in the global market in 2018 and anticipated to remain dominant over the forecast period. This can be attributed to the high adoption of technically advanced products, the presence of chief market players, and growing awareness about healthcare digital technology. The Asia Pacific is expected to register a high rate of growth in the future, owing to the growing convenience and availability of healthcare facilities, rising expenditure for research and development activities for manufacturing advanced telepathology systems, and increasing prevalence of life-threatening diseases.
Some key players of the global telepathology service market include are Apollo TeleHealth Services, Diagnostic Instruments, Inc., eVisit Telemedicine Solution, F. Hoffmann-La Roche Ltd., General Electric Company, Leica Biosystems Nussloch GmbH, Meyer Instruments, Olympus Corporation, Remote Medical Technologies, SRL Diagnostics, Teleconsult Europe, UNILABS, and Washington University.