Analysis
A surge arrester is a device used to protect electrical equipment and machinery from over-voltage transients caused by internal and external voltage fluctuations. Surge arrest driver or limit the current flow to protect the electronic device from getting damaged. Internal voltage fluctuations and external factors such as lightning cause damage to the electrical equipment used in several industries. Surge arrester cannot protect electronic equipment from direct lightning. It protects the equipment from electrical transients occurring from lightning.
Surge arrester market is primarily driven by increasing demand of electronic devices coupled with decreasing prices of consumer electronics. High demand for consumer electronics products and home appliances is expected to propel the market growth during the year to come. In addition, high disposable income and changing lifestyles in developed countries also help to grow the consumer electronics industry and power consumption at the rapid pace. However, some restraints like high cost and complexity of installation of surge arrester in huge plants may hinder the growth of the market. Moreover, increasing demand for renewable energy helps to open up new opportunities in the surge arrester market.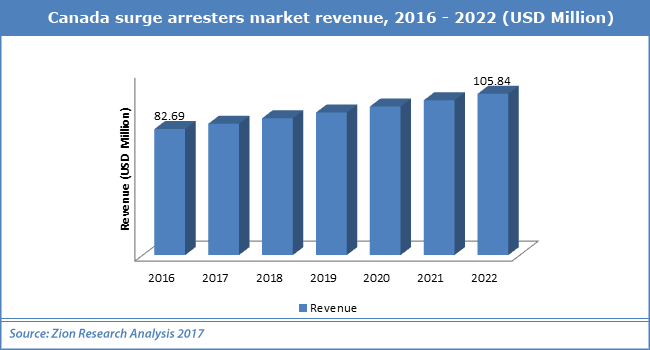 Based on application segment, the surge arrester market has been segmented into industrial, commercial and household applications. The industrial sector was leading application segment surge arrester market and accounted for the largest market share in 2016. Rising automation in both manufacturing and processing industry has augmented the demand for surge arresters in the industrial machinery and equipment sectors.
In terms of voltage type, Canada surge arrester market is segmented into low voltage surge arresters, medium voltage surge arresters, and high voltage surge arresters. High voltage surge arrester dominated the surge arrester market owing to the high demand from industrial applications. Medium voltage surge arrester is expected have a strong growth in the near future.
Canada is the world's second major manufacturer of hydroelectricity after China and accounted for 60% of all electric generation in 2007. Canada has made continuous development to improve and utilize natural resources in the service of electricity production. Thus, the rise in the demand for power generation is one of the primary factors anticipated to drive the surge arresters market in Canada.
Some of the key participants involved in surge arrester market includeEmerson Electric, Eaton Corporation Plc, Siemens AG, ABB Ltd, Schneider Electric S.E., Raycap Corporation, Mitsubishi Electric Corporation, and Crompton Greaves.