Free Analysis
Supply chain analytics is the combination of mathematics, predictive modeling, statistics, and machine-learning techniques to discover meaningful patterns and knowledge in overall supply chain data. The primary objective of supply chain analytics is to increase efficiency, forecast, and be more responsive to consumer needs. For example, applying predictive analytics to point-of-sale terminal data which is stored in a demand signal store can help organizations to anticipate customer demand, which further leads to inventory cost-saving and faster delivery.
Increasing the volume of business data across various industries, such as manufacturing, retail, consumer goods, transportation, and healthcare is compelling organizations to use supply chain analytics solutions for converting unrefined data into meaningful insights. Growing popularity of big data in supply chain management is further expected to propel the growth of supply chain analytics market across the globe. Big data analytics is providing a great amount of clear and accurate insights to the supplier networks which helps to share contextual intelligence across supply chains. Furthermore, advancements in the development of IoT sensors used in the supply chain are anticipated to drive the global supply chain analytics market in the years to come. IoT sensors can readily connect to the internet world and are inexpensive as compared to other devices and sensors such as programmable logic controllers which have either internet or Ethernet LAN connectivity. However, high implementation costs together with rising concern about security and privacy of supply chain data are restraining the growth of supply chain analytics market.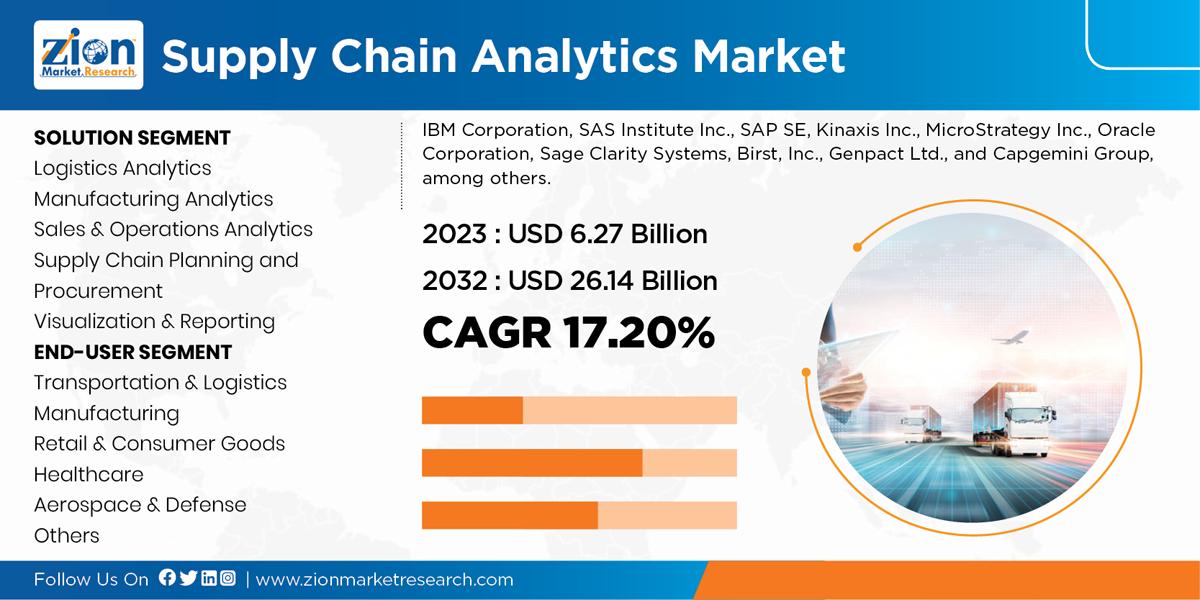 Supply chain analytics market is segmented based on the solution, end-user, and region. Solution segment included in this market are logistics analytics, manufacturing analytics, sales & operations analytics, supply chain planning and procurement, and visualization & reporting. Among solutions, logistics analytics segment witnessed a significant growth in the global supply chain analytics market. Logistics analytics solution helps in profit maximization and enhances the capabilities of the supply chain by managing inventory and distribution of finished goods in a cost-effective manner. The end-user segment includes transportation & logistics, manufacturing, retail & consumer goods, healthcare, aerospace & defense, and others. The regional segmentation includes the current and forecast demand for North America, Europe, Asia Pacific, Latin America, and the Middle East and Africa. Among region, Asia Pacific is expected to have the highest growth rate in the global supply chain analytics market. The Asia Pacific is the fastest growing region in the e-commerce and logistics landscape. The rise of the middle-class population, increasing investments of new e-commerce players, deeper mobile and internet penetration, and increasing logistics option in the ecosystem have contributed to the growth of logistics and e-commerce industry in this region.
Key players profiled in the global supply chain analytics market include SAP SE, Kinaxis Inc., IBM Corporation, SAS Institute Inc., MicroStrategy Inc., Birst, Inc., Genpact Ltd., Capgemini Group, Oracle Corporation, and Sage Clarity Systems, among others.