Analysis
A valve is a tool that normalizes, directs and controls the stream of a fluid by opening, closing, or partially impeding various passageways. The subsea values are special kind of valves, which can be also classified under industrial valves. They are used to control the flow of material through an undersea pipeline mostly used to control the flow of oil and gas. Moreover, the size of the valve is specified and is related to the volume of fluids that are expected to flow through it. The subsea valves find various applications such as oil & gas industry, marine industry, offshore wind power, energy harvesting and production, underwater mining, etc.
The subsea valves market is mostly driven by escalating energy demand along with growing scale of offshore and subsea projects. Secondly, emerging and advancing technologies for exploration and production of oil and gas is likely to fuel the demand for subsea valves during the years to come. However, unstable prices of crude oil are expected to impede the growth of the market. Nevertheless, growing penetration of new developments in various sectors is likely to set new wings to the market of subsea valves during the coming years.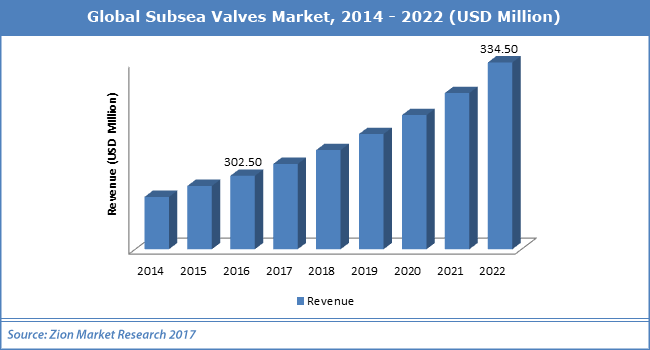 The subsea valves are bifurcated into different types such as subsea ball valves, subsea gate valves, subsea check valves, subsea control valves, subsea choke valves and others. Among all, subsea ball valve dominated the global subsea valves market in 2016. It held a significant share of the total market in 2016 and further this trend is expected to continue in the coming years. This growth is attributed to the special characteristics they offer to the end-use industry. These valves are highly appropriate for high-pressure and high-temperature conditions. Therefore, it is also predicted to be one of the fastest-growing segments of the global subsea valves market within the forecast period.
Based on regional segmentation, Latin America was the most attractive market for subsea valves in 2016. It accounted more than 30% share of the entire market and further it is expected to witness significant growth in the near future. Moreover, Middle East & Africa is expected to be the fastest growing market for subsea valves over the next few years. This growth is attributed to the increase in the offshore oil and gas projects especially in countries such as Ethiopia, Angola, Nigeria, and Egypt. Asia Pacific expected to witness moderate growth of the market. North America and Europe are projected to experience sluggish growth over the forthcoming years.
Some of the major players involved in the production of subsea valves across the globe include Perar S.p.A., Flowserve Corporation, BuTech, Oliver Valves Ltd., Cameron, L.B. Bentley Ltd, Cortec LLC, DAFRAM S.p.A., PetrolValves and amongst others.