Coal Power Generation Market Overview
The global coal power generation market accounted for 2124 GW in 2020 and is expected to reach 2952.2 GW by 2028, growing at a volume-based CAGR of 4.2% from 2021 to 2028.
The global coal-fired power generation market is a process carried out at a thermal power plant that generates electricity by burning coal. Being easily available and cost-effective, coal is proven to be one of the most widely used sources of generating electricity all over the world. Coal power generation plants are also considered to be safer and more reliable than nuclear plants. A few of the technologies used for power generation include fluidized bed combustion, gasification, coal cyclone furnaces, and pulverized coal firing.
One of the primary factors driving the market growth is the rising demand for energy owing to rapid industrialization and growing reliance on electrification around the world. Approximately half of the world's energy demands are served by coal-fired power plants. Pulverized coal firing technology is expected to dominate the market in the coming years. It is the most developed and tested technology for large utility boilers and provides the greatest reliability and performance of all boiler configurations. Due to growing environmental concerns, state and local governments, as well as a number of energy firms are investing heavily in research and development projects to produce clean coal technologies.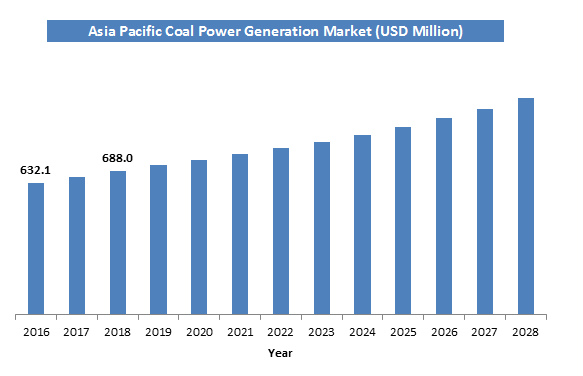 Request Free Sample
COVID-19 Impact Analysis
Owing to the coronavirus outbreak and subsequent lockdowns enforced by governments around the world, demand for electricity has decreased, resulting in the temporary closure of a number of coal-fired power plants. Coal power generation was estimated to drop by more than 5% in 2020 globally. The market is expected to stabilize once normalcy is restored. COVID-19 has resulted in a temporary reduction in global CO2 emissions as well as a decrease in the share of power produced by coal combustion, a trend that may outlast the pandemic as renewable sources of energy such as wind and solar take the forefront.
Growth Factors
The growing demand for energy is expected to drive the global coal power generation market in the coming years. This is mainly due to the increasing population, which drives up the demand for electricity in the residential segment.
The rising demand for power in heavy industries clubbed with rapid industrialization, is also expected to boost the growth of the global coal power generation market share. Being hubs for local manufacturing industries, the presence of numerous enterprises and factories in developing economies such as China, India, and South Korea has created opportunities for market expansion. Technological advancements in fly-ash handling, a residue produced during the combustion of coal in coal power plants, are also expected to drive the growth of this market. Effective ash handling systems are being developed to comply with government measures to control air pollution.
Report Scope: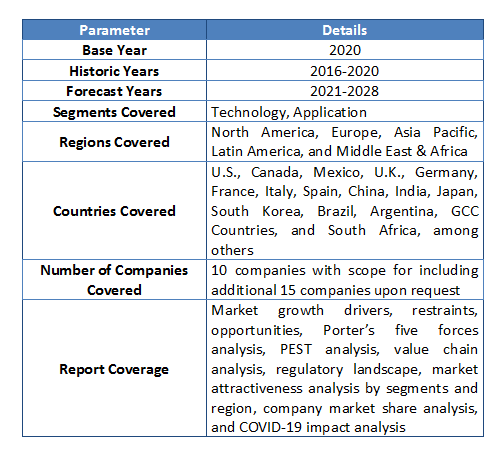 Request Free Sample
Technology Segment Analysis Preview
Other segments held a share of around 30% in 2020. Other technologies, for instance, fluidized bed combustion and coal gasification are expected to grow significantly owing to their lower emission standards. Rising concerns about the environment and strict environmental regulations have driven coal power generation companies to switch to cleaner technologies like fluidized bed combustion and coal gasification, thereby stimulating growth.
Application Segment Analysis Preview
The commercial segment is expected to grow around a CAGR of 7.1% from 2021 to 2028. This is attributable to the rapid urbanization and industrialization mainly in the developing nations of Asia-Pacific, which are making a strong case for commercial growth in the coming years. Apart from research and development initiatives aimed at lowering operating costs, streamlining logistical processes, and increasing productivity offer a plethora of opportunities to this segment. Steel, textiles, chemicals, and information technology are some of the leading industries in the commercial segment.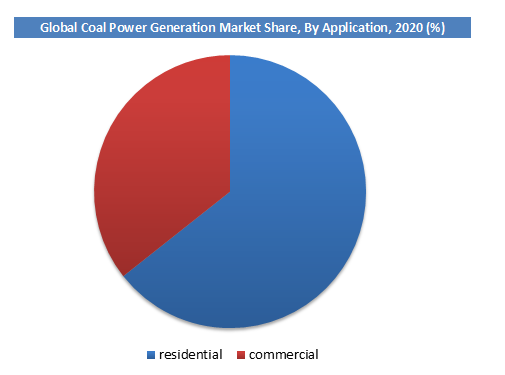 Request Free Sample
Regional Analysis Preview
The Asia Pacific region held a share of around 55% in 2020. This is attributable to the presence of key players such as NTPC Ltd., China Huaneng Group, China Huadian Corporation, Korea Electric Power Corporation, and China Datang Corporation among others. Industrialization, population growth, and increasing urbanization have all contributed to a significant increase in power consumption in the region, especially in emerging economies like India and China. The availability of low-cost coal in coal-rich countries like China is another vital factor expected to boost this market. Additionally, the ever-growing population of developing countries like India and China translates into higher electricity consumption further augmenting this market.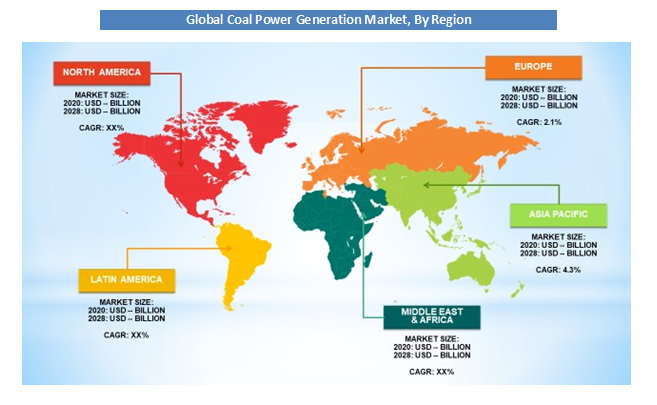 Request Free Sample
The Europe region is projected to grow at a CAGR of around 2.1% over the forecast period. Europe is expected to witness a slower growth rate owing to strict regulatory measures. Alternative methods of coal generation are garnering interest in this region in order to tackle rising environmental concerns.
Key Market Players & Competitive Landscape
Some of the key players in the Coal Power Generation Market are China Huadian Corporation, NTPC Ltd., Southern Company, Uniper SE, Duke Energy Corporation, American Electric Power Company, KEPCO Engineering & Construction Company, China Huaneng Group, Korea Electric Power Corporation, China Datang Corporation, and STEAG Gmbh among others.
Industry members are taking several steps to invest in Research and Development (R&D) and looking for innovative solutions to reduce operating costs, improve operational efficiencies, and reduce pollution caused by coal power generation.
The global coal power generation market is segmented as follows:
By Technology
Pulverized Coal Systems
Cyclone Furnaces
Others
By Application
By Region
North America
Europe

France
The UK
Spain
Germany
Italy
Rest of Europe

Asia Pacific

China
Japan
India
South Korea
Southeast Asia
Rest of Asia Pacific

Latin America

Brazil
Mexico
Rest of Latin America

Middle East & Africa

GCC
South Africa
Rest of Middle East & Africa