Analysis
Stearic acid is an organic compound that is made up of hydrocarbon chain containing a carboxyl group and a methyl group. It is one of the types of fatty acids. It is derived from fats and oils using saponification methods on the commercial basis. It functions as a softening agent and cleaning agent. Therefore, it finds numerous applications in different industries such as the production of soaps and detergents, cosmetics, rubber industry, textile, personal care products, etc.
Growing demand for stearic acid in industries such as food, confectionaries and personal care across the globe is a major driving force of the stearic acid market. Rising demand for rubber tires from the automotive sector is also expected to boom the market size in the coming years. However, volatility in raw material prices is a major restraint of the market. Furthermore, untapped markets in developing countries are likely to provide new avenues to the key players of the market within the forecast period.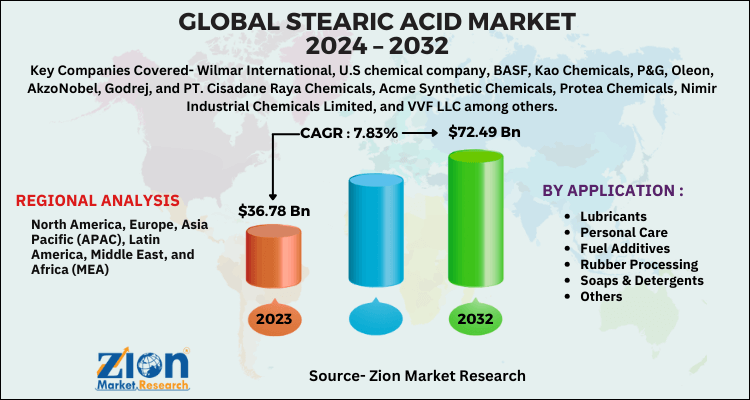 Soaps and detergents were one of the foremost applications of the global stearic acid market and it accounted for above 26% share of the entire market in 2016. Moreover, personal care is expected to be the fastest growing application segment of the market over the coming years. Surging demand for personal care products including shampoos, shaving cream, etc is likely to propel the production of stearic acid during the forthcoming years. Furthermore, the emerging automotive industry in developing countries such as Brazil is expected to provide a new market for the stearic acid in the near future.
The Asia Pacific was the largest market of stearic acid in 2016. It held the significant share of the total market in 2016 and furthermore it is expected to continue this trend over the next few years. Growing industrialization along with emerging auto industry in China, India, Indonesia, and Brazil is projected to expand the production of rubber processing industry. North America and Europe are predicted to experience the stagnant growth of the market over the future years. Moreover, growing demand for confectionaries, snacks, and convenience food along with emerging food industry in countries such as Argentina, Brazil, UAE and Saudi Arabia is expected to boost the demand for stearic acid in the coming years.
The major players of the global stearic acid include Wilmar international, U.S chemical company, BASF, Kao Chemicals, P&G, Oleon, AkzoNobel, Godrej, PT.Cisadane Raya Chemicals, Acme Synthetic Chemicals, Protea Chemicals, Nimir Industrial Chemicals Limited, and VVF LLC among others.