Analysis
Stadium lighting market is likely to witness significant growth in the near future, owing to the increased spending on stadiums, especially in the Middle East. Qatar is the major market, as it is the host for the 2022 FIFA World Cup. It is estimated that the country's world cup stadium construction cost is between USD 8 billion to USD 10 billion. Furthermore, it is projected that the new sports stadium construction in Dubai will cost nearly USD 816 million.
The sports infrastructure construction, food and beverages, and betting markets were valued around USD 100 billion to USD 200 billion in 2014. Sports infrastructure construction is projected to rise owing to the escalating demand for sports arenas and the growing need to increase stadium capacities. Furthermore, investments made for opening retail outlets in stadiums are increasing annually. Major sponsors, such as Nike, Adidas, and Puma, have opted to open retail outlets in stadiums to increase their sales. This will increase the demand for facilities and stadium expansions, which, in turn, is likely to leverage the stadium lighting market during the estimated time span. However, the high equipment cost might constraint the stadium lighting market on a global scale in the future. Technological developments and the use of IoT in lighting solutions are likely to open new growth avenues for the players operating in the stadium lighting market.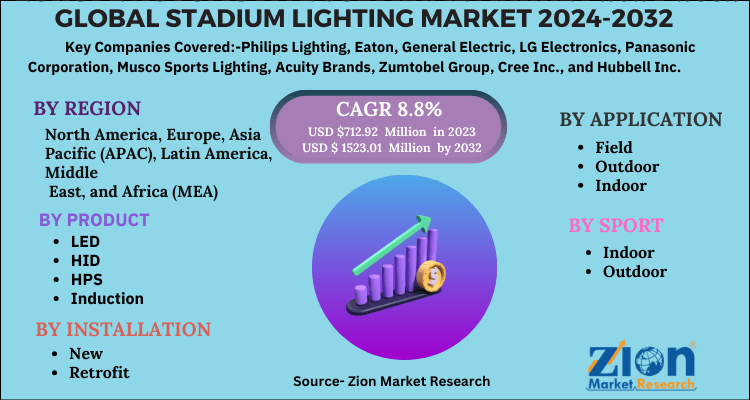 The stadium lighting market is fragmented on the basis of product, installation, application, and sport. By product, the global stadium lighting market is divided into LED, HID, HPS, and induction. The LED segment is anticipated to hold a notable share of the market over the estimated timeframe. New and retrofit comprise the installation segment of this global market. By application, this market includes field, outdoor, and indoor. Indoor and outdoor sports comprise this market's sports segment. The indoor sports segment is projected to grow considerably due to rising investments in sports infrastructure for badminton, swimming, table tennis, etc.
By region, North America is expected to hold a significant share of the global stadium lighting market over the forecast timeframe. The U.S. is a major regional contributor owing to the construction of new stadiums, such as Oakland Raiders Stadium, Banc of California Stadium, LA Rams Stadium, etc. Europe is likely to witness a commendable rise in the demand for stadium lighting due to the renovation of numerous football stadiums. Football clubs, such as Real Madrid and Barcelona, have announced stadium renovations of around USD 595 million and USD 689 million, respectively.
Some noticeable players of the stadium lighting market are Philips Lighting, Eaton, General Electric, LG Electronics, Panasonic Corporation, Musco Sports Lighting, Acuity Brands, Zumtobel Group, Cree Inc., and Hubbell Inc., among others.