Free Analysis
Social media has found massive popularity in the last few years, owing to the easily available social media platforms to express one's self and find people through smartphones and computers. These platforms have a huge client base and huge volumes of corporate and individual data. Hence, social media platforms have turned into one of the potential channels for digital assailants to abuse individual consumer data.
The rising user visits on social media via smartphones and growing compliance requirements globally are expected to drive the social media security market globally in the years ahead. However, the cross-boundary location of servers and lack of common laws across countries may impede the social media security market. Alternatively, voluminous data generated through social media platforms is likely to generate new opportunities for the social media security market in the years to come.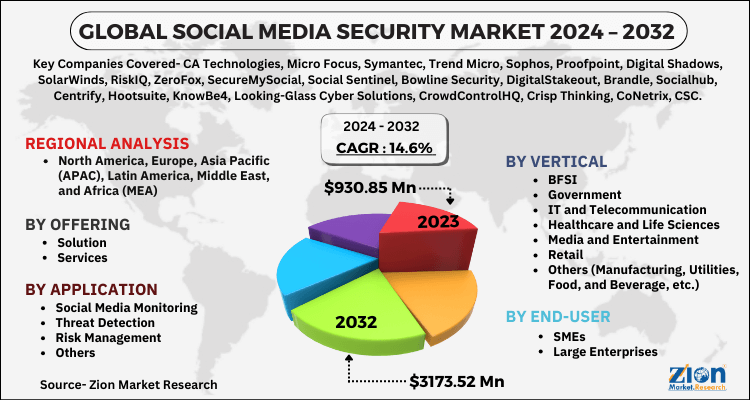 The social media security market is fragmented on the basis of offering, application process, end-user, and vertical. Based on offering, the social media security market includes solution and services. The growing demand for service-based products is enhancing the growth of the service segment.
Based on application process, the market includes social media monitoring, risk management, threat detection, and others. The social media monitoring segment is anticipated to grow significantly over the forecast time period, owing to the rising preference for a wide variety of services, functionality, and in-depth analysis.
By end-user, the market for social media security includes SMEs and large enterprise. The SMEs segment is anticipated to show substantial growth in the future, owing to the growing popularity of these enterprises among the consumers.
By vertical, the social media security market comprises media and entertainment, BFSI, government, IT and telecommunication, retail, healthcare and life sciences, and others (manufacturing, utilities, food and beverages, etc.). The BFSI sector accounts for a dominant share in the social media security market globally.
The Asia Pacific social media security market is projected to show a substantial growth rate over the forecast time period, owing to the prominent requirement for regulatory reforms and significant penetration of enterprise social media in the major countries for business purposes.
Some key players in the social media security market are CA Technologies, Micro Focus, Symantec, Trend Micro, Sophos, Proofpoint, Digital Shadows, SolarWinds, RiskIQ, ZeroFox, SecureMySocial, Social Sentinel, Bowline Security, DigitalStakeout, Brandle, Socialhub, Centrify, Hootsuite, KnowBe4, Looking-Glass Cyber Solutions, CrowdControlHQ, Crisp Thinking, CoNetrix, CSC, and Hueya.