Free Analysis
Offices integrated with latest technologies for simplifying working procedures in an organization is termed as a smart office. These technically advanced offices are designed to facilitate extreme flexibility through extensive use of network-based devices. As compared to previous traditional offices, smart office systems are highly preferred due to the high security offered by them.
The rising penetration rate of Bring Your Own Device (BYOD) is likely to significantly fuel this market in the years ahead. Globally, BYOD is trending among small enterprises (SMEs). Many organizations are encouraging the use of smart mobile devices, such as laptops and tablets, which, in turn, has enhanced employee flexibility of managing various official tasks, thereby enhancing the organization's overall productivity. These smart BYODs can be easily integrated with smart offices to facilitate real-time information that helps in quick decision making. However, high capital investments required to design and develop smart offices might hinder the smart office market expansion in the future. These smart offices are beneficial for long-term, which makes unaffordable for small-scale enterprises. Moreover, the high demand for energy-saving solutions by large-scale enterprises is anticipated to create lucrative growth opportunities for the key players operating in the smart office market in the forecast time period.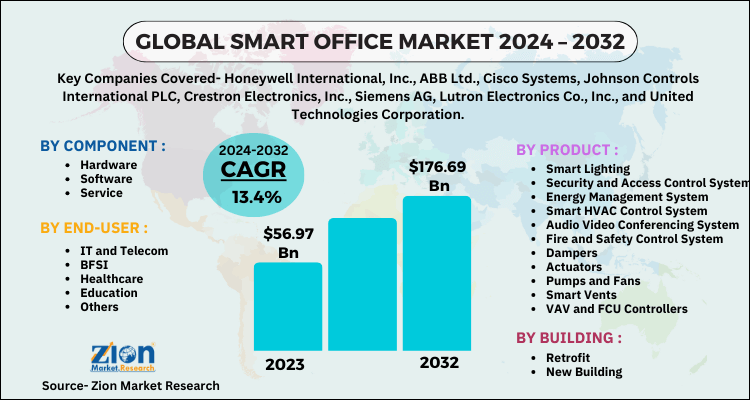 The smart office market is segmented on the basis of product, building, component, and end-user. The product segment includes energy management system, smart HVAC control system, smart lighting, security, and access control system, audio-video conferencing system, fire, and safety control system, actuators, dampers, smart vents, pumps and fans, and VAV and FCU controllers. The component segment includes hardware, software, and service. Audio video conferencing systems are anticipated to grow rapidly in the future, due to the emergence of telepresence. The building segment includes retrofit and new building. The component segment includes hardware, software, and service. IT and telecom, BFSI, healthcare, education, and others comprise the end-user segment of this market. The emergence of IT infrastructure globally is likely to fuel the IT and telecom segment in the upcoming years.
By geography, the smart office market is segmented into North America, Europe, Latin America, Asia Pacific, and the Middle East and Africa. The Asia Pacific is projected to hold a substantial market share globally, owing to rapid industrialization and urbanization. North America is likely to hold a prominent market share globally in the future, owing to growing security concerns among the major enterprises.
Some key players operating in the smart office market include Honeywell International, Inc., ABB Ltd., Cisco Systems, Johnson Controls International PLC, Crestron Electronics, Inc., Siemens AG, Lutron Electronics Co., Inc., and United Technologies Corporation.