Free Analysis
Serverless architecture is a part of cloud computing where developers can write codes and create applications on virtual systems without worrying about the server and infrastructure on virtual systems. It is basically a union of cloud services and self-managed functions operating as serverless applications.
Digital era has accelerated the pace of technological advancements and evolution of new products, software, services, and business models. Thus, enterprises are under pressure to release new features to meet the growing customer expectations, thereby driving the serverless architecture market. Moreover, the agile development culture and DevOps are assisting business sectors and organizations to enhance their style of developing business applications. This paradigm shift of organizational mindset is another factor fuelling the serverless computing market. Serverless computing offers a secure and scalable platform to support real-time applications in the BFSI sector, contributing toward the growth of the serverless architecture market. Despite these benefits, the cost of serverless services, limited resources, and inadequate application testing are certain challenges that might limit the serverless architecture market growth in the years ahead.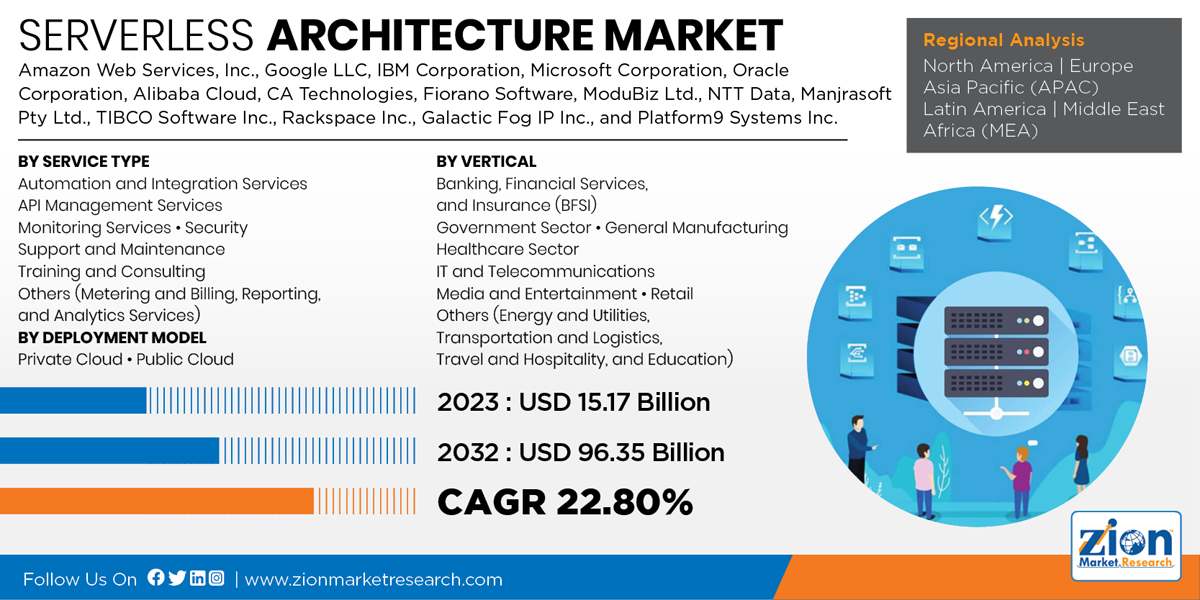 The serverless architecture market is segregated based on service type, vertical, and deployment model. The service type segment includes automation and integration services, monitoring services, training and consulting, security, API management services, support and maintenance, and others (metering and billing, reporting, and analytics services). The deployment model is bifurcated into the private and public cloud. Public cloud is anticipated to be the fastest growing model in the future, due to its rising adoption among cloud storage providers, rapid deployment, and easy accessibility.
Geographically, North America is expected to hold the largest share in the global serverless architecture market over the estimated timeline, as the region is a pioneer in the adoption of new technologies. Moreover, the presence of major players of the serverless architecture market, such as Microsoft, Google, AWS, and IBM, is likely to further contribute toward the regional growth. Additionally, the enterprises are continuously innovating and adopting new technologies to remain competitive in the dynamically expanding market, which is projected to significantly contribute toward the region's serverless architecture market.
The serverless architecture market is extremely competitive in nature as most of the businesses are shifting towards cloud services. However, the lack of security and strict compliance are still major concerns among the cloud service providers and adopters. Certain prominent players in the serverless architecture market include Amazon Web Services, Inc., Google LLC, IBM Corporation, Microsoft Corporation, Oracle Corporation, Alibaba Cloud, CA Technologies, Fiorano Software, ModuBiz Ltd., NTT Data, Manjrasoft Pty Ltd., TIBCO Software Inc., Rackspace Inc., Galactic Fog IP, Inc., and Platform9 Systems, Inc.