Free Analysis
Protein chip or protein array is a high-performance method for detecting proteins, investigating protein functions, and monitoring their amount of expression. In basic research and biotechnology companies, protein arrays are the commonly used technology. The protein array concept involves the use of proteins on a surface comprising glass, membranes, microtiter wells, mass spectrometer beads, and plates. The array also includes sample molecules labeled with a fluorescent dye. The sample emits a fluorescent signal while reacting with immobilized proteins. A laser scanner can read this fluorescent signal.
The major drivers of the protein chip market are the growing demand for personalized medicine and strong proteomics R&D investments. Other growth drivers are increasing cancer incidence rates and the rising practice of diagnostic testing with advanced technology. The protein chip market is plagued with difficulties in various critical aspects, particularly in high-throughput protein production. It is a scientific experimentation technique that involves screening big compound libraries for activity against biological objectives via automation. In addition, protein chip determines the quality of the resulting protein microarrays, thus the quality of proteins must be considered as a crucial aspect.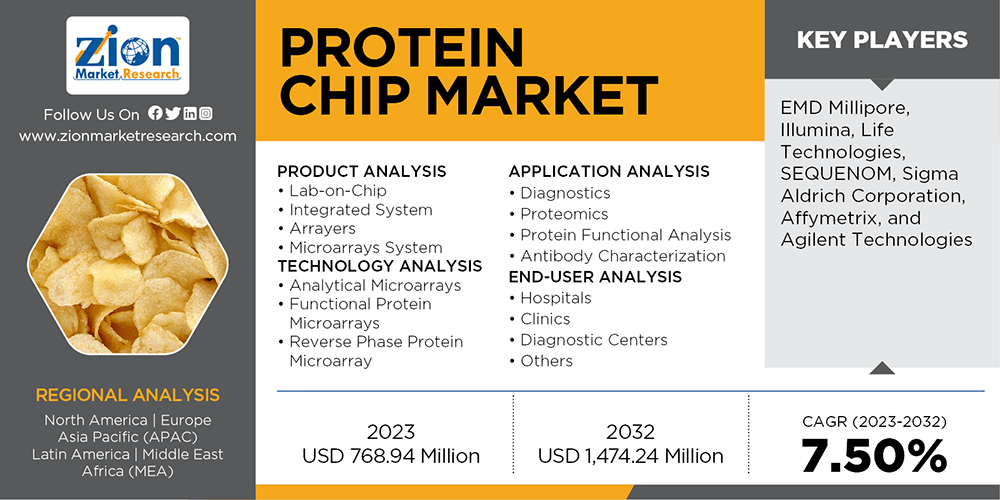 By product, the protein chip market is categorized into integrated system, lab-on-chip, microarrays system, arrayers, and others. Proteins are identified after capturing antibodies using direct protein labeling, to show analytical microarrays using analyte labeled assay format. There is another model sandwich assay format that detects multiple variations in protein expression in epithelial and stromal cells via this analyte labeled antibody array. Two distinct antibodies are used in this format to identify the targeted protein. The reverse stage protein microarray enables the assessment of many samples acquired by identifying tissue, cell lysates, or even fractionated cell lysates directly on a glass slide at distinct locations. By technology, the protein chip market includes functional protein microarrays, reverse phase protein microarray, and analytical microarrays. The application segment comprises antibody characterization, diagnostics, protein functional analysis, and proteomics. The proteomics segment dominates the protein chip market, as they are used in biomedical research and drug discovery studies based on conduction chips. The end-user segment includes clinics, hospitals, diagnostic centers, and others.
North America and Europe dominate the worldwide protein chip market, due to the high demand for molecular-based diagnostic methods and increased health-consciousness among the patient population. The Asia Pacific is an evolving protein chip market, owing to various economic developments witnessed in India, China, and Malaysia. In addition, due to the region's diverse demographic pool, most drug development businesses outsource their clinical trial drug development research to Asian nations, which is also contributing to the development of this region's protein chip market.
Some key players of the protein chip market are EMD Millipore, Illumina, Life Technologies, SEQUENOM, Sigma Aldrich Corporation, Affymetrix, and Agilent Technologies.