Analysis
Processed meat is edible animal flesh which is preserved in order to either improve its taste or extend its shelf life. Some of the key methods of meat processing include curing or salting, smoking, and the addition of chemical preservatives. Processed meat products include bacon, sausages, salami, corned beef, ham, hot dogs, beef jerky and others.
Processed meat market is expected to witness robust growth in the near future. The market is mainly driven by increasing consumption of processed meat coupled with increasing disposable income in emerging countries. Moreover, large varieties of processed meat available in the market at lower prices are expected to propel the market growth over the years to come. However, health risks associated with consumption of processed meat may hamper the market growth within the forecast period. Meat consumption in developing countries has been continuously increasing. Thus, increasing demand from emerging economies is expected to open up new growth avenues in the near future.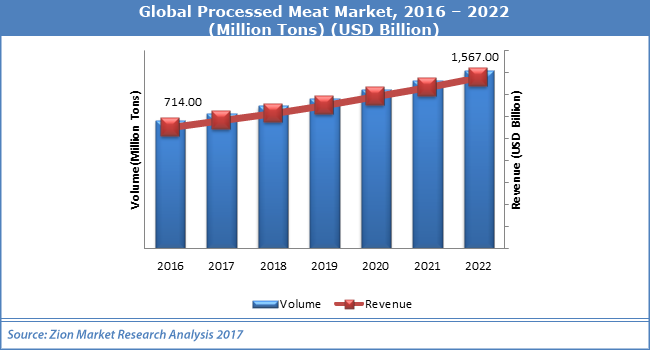 Processed meat market can be categorized on the basis of products into cured processed, uncured processed and others. Cured processed accounted for largest share of this market in 2016. These products include nitrites, which are used to prevent the growth of pathogenic bacteria and increase the shelf life of the meat. Uncured poultry meat is also expected to grow at a higher CAGR in the near future due to the use of natural preservatives.
Based on meat type, the market can be segmented into poultry, pork, mutton, beef and other processed meat. Among all the meat types, processed poultry was the leading segment and is expected to show substantial growth in the years to come. Processed pork was another key segment of this market on account of the increasing demand for different processed pork products such as sausages, bacon, hamburgers, and trotters.
The global processed meat market can be segmented on the basis of types into chilled processed meat, frozen processed meat, canned/preserved meat and meat products and frozen processed red meat. Chilled processed meat is expected to exhibit exponential growth within the forecast period. This is mainly due to its ability to decrease cooking time and meet the demand for quick meals. Frozen processed meat is also expected to show significant growth in the years to come.
By geography, Asia Pacific generated high demand for processed meat, which accounted for the largest market share of overall consumption in 2016. Asia Pacific processed meat market is led by China. North America was another leading regional market in 2016. Health hazards associated with consumption of processed meat has sluggish the consumption rate in Europe. Russia is expected to witness the fastest growth rate in Europe.
Some of the key players operating in this market such as JBS SA, Pilgrims Pride Corp., Sysco Corp., Advance Pierre Foods, Hormel Food, Tyson Foods Inc., Cargill Inc., Keystone Foods, Sanderson farms, BRF S.A., Marfrig Group and others. The major players in the market focus on the expansion of the business by different new strategies such as setting up the new plant to increase production capacity and also extending the product line.