Analysis
Process instrumentation is used to measure temperature, turbidity, humidity, speed, pressure, level, pH, force, flow, and other variables. Process instrumentation tools are needed in several end-user industries. Process instrumentation offers several benefits, such as decreases human errors, improves product quality, reduces plant emissions and operating costs. Measuring, recording, controlling, and positioning are the key parameters required for trouble-free operations of a manufacturing unit. Therefore, process instruments prioritize delivering complete consistency, exactness, and accurateness. Thus, process instrumentation gadget majorly offers proficient means to enhance plant efficiency and increase product quality.
Increase in technological advancements and innovation are the major factors primarily driving this market's growth. Increasing demand for automated processes and instruments by producers is the key factor bolstering the expansion of process instrumentation market. Moreover, rising adoption of IoT-based processing instruments across various industries and the shift of production approach from traditional practices to digitalized methods is anticipated to boost the development of the process instrumentation market in the upcoming years. Furthermore, developments made in drilling technologies, like microseismic imaging, stacked laterals, and fracking, leads to onshore exceptional oil and gas analysis. In addition, cost efficiency, asset utilization, and reduction in engineering time and energy efficiency with the help of process instruments are some of the considerable factors positively influencing the growth of process instrumentation market.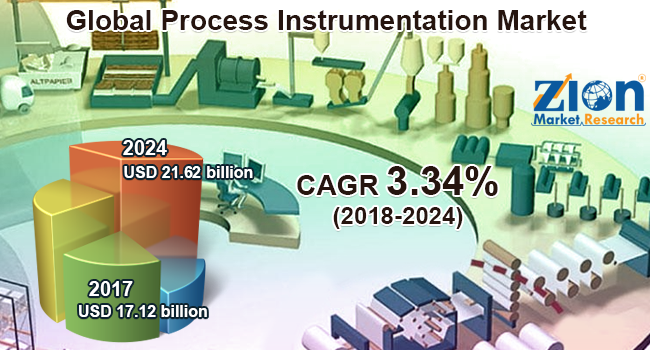 On the basis of the instrument, process instrumentation market is categorized into transmitter and control valve. Based on technology, the market for process instrumentation is segmented into Programmable Logic Controller (PLC), Distributed Control System (DCS), Manufacturing Execution System (MES), and Supervisory Control and Data Acquisition (SCADA). On the basis of end-user, the market for process instrumentation is fragmented into the household, automotive, aircraft, and laboratory instrumentation.
On the basis of geography, North America accounted for a major market share in 2017 and is anticipated to continue its dominance during the forecast period. This growth can be attributed to the rising next-generation technological advancements. The U.S. and Canada accounted for a major market share in this market in North America. Moreover, an increase in the adoption rate of industrial automation in various end-user industries, such as chemicals, oil and gas, pharmaceuticals, petrochemicals, and others, is primarily boosting the growth of this market. Additionally, Asia Pacific is projected to witness the highest growth rate in the upcoming years in this market. This is due to rapid industrialization in emerging countries, such as India and China.
The major players operating in the process instrumentation market are Metso Corporation, Honeywell International Inc., Danaher Corporation, Omron Corporation, Yokogawa Electric Corporation, Siemens AG, ABB Ltd., Rockwell Automation Inc., Mitsubishi Electric Corporation, and Emerson Electric Company.