Free Analysis
The unknown cause of incidents is referred to as a problem. To diagnose and validate the problem are the primary role of problem management software. The database of problem occurred are used by software to track problems and to assist any identified workarounds with them. As the problem is diagnosed, it is referred to as a known error. Once the known error is diagnosed, the problem management software resolves the error occurred in the process.
In ITIL service operation lifecycle, the step beyond incident management is problem management. Quality reduction or unplanned interruption of IT service is handled by incident management software, whereas the root cause of incidents is handled by problem management software. Problem management eradicates the cause of unsuccessful services, whereas incident management re-establishes services.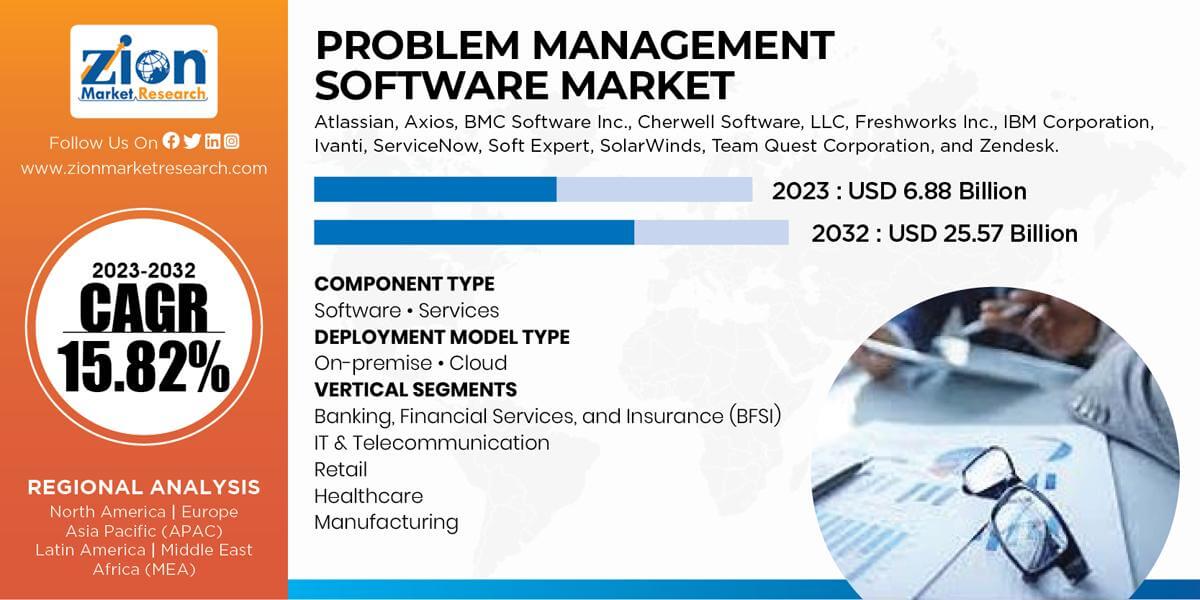 Problem management solutions result reduces the number of problematic incidents by producing structural solutions for errors in the organization and by providing incident management with evidence to avoid errors and reduce the loss of service. The problem management procedure has both proactive and reactive aspects. Proactive problem management emphasizes the avoidance of incidents by recognizing and resolving problems before incidents occur. The reactive aspect is dealt with solving problems in response to more than one incident. This, in turn, boosts the growth of problem management software market.
Based on the component, the problem management software market is divided into software and services. On the basis of deployment model, the market is segmented into on-premise and cloud. Based on vertical, the market is segmented into financial services, banking, and insurance (BFSI), IT & telecommunication, retail, healthcare, and manufacturing.
North America held a dominant share of the global market for problem management software in the 2017 and region is projected to continue with its regional supremacy over the forthcoming years as well. The growth of this regional market is attributed with a large number of software providers in the region, and strong IT infrastructure in the U.S. Asia Pacific is projected to grow at a significant CAGR, due to a large number of the manufacturing base, increasing adoption of problem management software in retail and banking industry. Moreover, the growing economy of the region is the key factor contributing towards the high growth of problem management software market in the Asia Pacific over the coming years.
Some of the key players in the problem management software market are Atlassian, Axios, BMC Software Inc., Cherwell Software, LLC, Freshworks Inc., IBM Corporation, Ivanti, ServiceNow, Soft Expert, SolarWinds, Team Quest Corporation, and Zendesk. Currently, the demand for problem management software is increasing from various industries to boost the productivity and decrease the loss of service and this is expected to propel the growth of problem management software market in the coming years.