Analysis
Prefilled syringes play an important role in injectable drug delivery devices market. Prefilled syringes are widely used in therapeutic sectors, such as vaccines, blood stimulants, and therapeutic proteins. The prefilled syringes are available in different types such as single chambered syringes, dual chambered syringes, and customized syringes.
Prefilled syringes market is expected to witness noticeable growth in the years to come on account of rapid growth in the biologics market, and the increasing preference for self-administration using prefilled syringes, pen injectors, and auto-injectors. Furthermore, prefilled syringes offer several benefits such as ease of administration, accurate dosing, and reduced risk of contamination. These advantages form the basic foundation for the success of prefilled syringes and are likely to continue to drive the market during the forecast period. However, the presence of alternative drug delivery means and the high cost associated with the production of prefilled syringes is expected to be a major restraining factor for this market. Nonetheless, technical advances in the sector are expected to open up new growth avenues within the forecast period.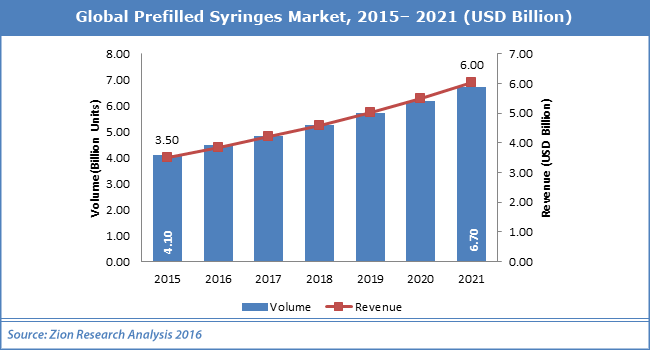 The prefilled syringes market can be segmented on the basis of types into glass-based prefilled syringes and plastic-based prefilled syringes. Glass-based prefilled syringes were the leading segment and it accounted for the largest share in terms of both volume and revenue. This growth is mainly attributed to glass as it offers favorable properties such as transparency, robustness, strength and chemical inertness. Plastic-based prefilled syringes is another key outlet and are expected to be witness fastest growth on account of technological advancement of polymer technology based plastics used to manufacture prefilled syringes.
Insulin, vaccines, and others are the key applications in the prefilled syringes market. Vaccines and insulin collectively accounted for the large chunk of market share in terms of volume and revenue on account of increasing prevalence of chronic diseases such as diabetes, which requires insulin administration on a daily basis. Thus, insulin segment is expected to show significant growth in the years to come.
Europe held the largest share of prefilled syringes market and is projected to witness the highest growth within the forecast period owing to the high rate of prefilled syringes adoption and surging R&D initiatives. Asia Pacific was the second largest regional market and is expected to show significant growth in the years to come. Asia Pacific prefilled syringes market is expected to be the fastest-growing region in the years to come. Growth in this region will be mainly driven by factors such as rising aged population, coupled with the growing number of diabetes patients. North America is expected to exhibit significant growth in the near future. Rising awareness and demand for biologics and improvement in health care infrastructure is expected to boost the market demand in the years to come in North America.
Some of the key players in the market such as Schott AG, West Pharmaceutical Services, Inc., Vetter Pharma International GmbH, Becton Dickinson & Company, Baxter International, Inc., Bespak, Unilife Corporation, Stevanato Group, Nipro Corporation, Gerresheimer AG, and others.