Free Analysis
Population health management software is used in various applications, such as data management, care plan development and management, consulting, ongoing maintenance, care coordination, and patient interaction and analytics. Additionally, it offers implementation and outsourced care and coaching of patients.
The increasing prevalence of chronic diseases, the adoption of healthcare IT solutions, and the demand for healthcare integration, storage and management are estimated to drive the population health management market globally in the upcoming years. Population health management simplifies the complex task of data collection from different care settings along with data accessibility through various application program interface (APIs). The key role of population health management is to provide a significant platform to deliver effective care management for intensive or long-term care by engaging with their patients, tracking patients' progress, assigning tasks, and performing necessary risk assessments for future care planning. All these features are likely to fuel the global population health management market in the future. However, the lack of awareness and accessibility and high implementation costs might hinder this market's future.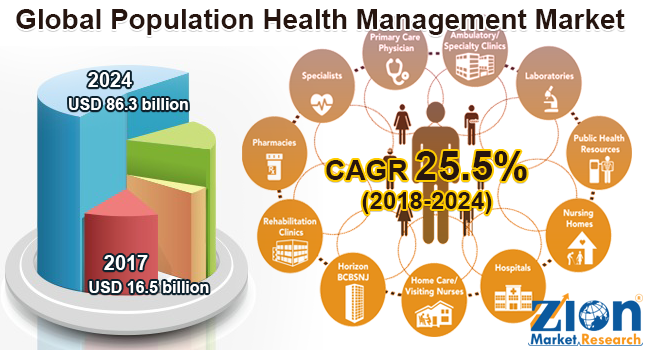 The global population health management market is segmented based on application, mode of the delivery, component, and end-user. By component, the market is bifurcated into services and software. The service segment is sub-segmented into consulting services, post-sale and maintenance services, implementation services, and training and education services. By application, the market is divided into automating patient-centered medical home (PCMH), access comprehensive longitudinal patient record, effectively coordinate care, patient outreach, and others. By mode of delivery, this market is segmented into cloud-based and on-premises. By end-user, the population health management market is segregated into providers, payers, and others. Providers are further segmented into ambulatory care centers, hospitals, physician groups, and integrated delivery networks, diagnostic and imaging centers, home healthcare agencies, nursing homes, and assisted living facilities, and others. Payers include private and public payers.
By region, North America is anticipated to dominate the population health management market globally over the forecast time period. This can be attributed to the growing influence of cryptocurrency, decline in the ownership cost, and simplified and transparent business processes. Europe is likely to be the second largest market, due to the growing demand for healthcare data provenance. The Asia Pacific region is anticipated to register the fastest rate of growth over the forecast time period, whereas the Latin American market is estimated to grow moderately in the future. The Middle Eastern and African region is likely to hold a prominent market value share in the population health management market globally.
Some key players of the population health management market include IBM Corporation, Verisk Health Inc., Healthagen, LLC, Cerner Corporation, i2i Systems, Inc., Health Catalyst LLC, Conifer Health Solutions, Cerner Corporation, OptumHealth, Inc., WellCentive, Inc., and Allscripts, Inc., among others.