The healthcare contract research outsourcing market is set for a rapid growth over the forecast period. In terms of revenue, the global healthcare contract research outsourcing market accounted for USD 40.30 Billion in 2019 and is expected to reach USD 68.94 Billion by 2026, growing at a CAGR of 7.97%
Global Healthcare Contract Research Outsourcing Market: Overview
A Clinical Research Organization (CRO) is a service organization offering support in the form of outsourced pharmaceutical testing services to the pharmaceutical and biotechnology industries (for medical and drugs devices). CROs vary from large, international full-service companies to small, local specialty groups and can provide their consumers the experience of moving a new drug or product from its conception to marketing approval by the Food and Drug Administration (FDA) without having to retain a workforce for these services by the drug sponsor.
While the CRO industry has been around for decades, it is rising substantially more than ever since rivalry between organizations is increasing and the need for outsourced clinical services is growing. As the drug manufacturing process becomes more and more complex, all the tools required to make the process more efficient are being used by the pharmaceutical industry.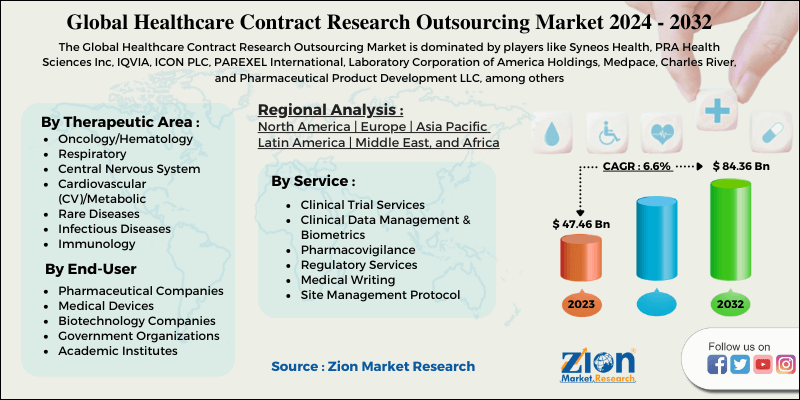 Global Healthcare Contract Research Outsourcing Market: Growth Factors
Healthcare providers often outsource drug manufacturing functions to CRO's to use development capabilities globally, effectively and efficiently. CROs' clinical, therapeutic and regulatory insight aims to strengthen the full production cost and speed up the time to lookout for a new product. CROs have grown broader and vastly more diversified across numerous therapeutic functions and areas, extending their penetration. CROs are expected to grow globally and add competencies in new therapeutic areas, thus boosting their current services beyond conventional clinical capabilities, including commercial, post-approval, informatics among other auxiliary offerings where low outsourced penetration has been observed, further growing demand for CROs, and driving increased outsourcing demand.
The healthcare contract research outsourcing market is expected to witness significant growth during the forecast period, driven by increased investment from small to medium-sized companies in pharmaceutical, medical devices, and biotechnology that will lead organizations to opt for CRO services, with attention to niche market. Small pharmaceutical firms are looking for innovations in production process by CRO services due to increased demand for new drugs and patent expiry. Outsourcing also enhances global scope with respect to drug production at low maintenance costs, as CROs are well aligned with regulatory criteria in different regions to boost the growth of the outsourcing market for healthcare contract research.
Impact due to the outbreak of COVID-19
The outbreak of COVID-19 has impacted the different functions of the healthcare sector. With the review of the clinical trial database and taking into account the functioning of key players on the CROs market, it has been observed that the growth of the CROs market has been hampered during 2019-2020. This epidemic has put a massive burden on the pharmaceutical industry to manufacture vaccines, diagnostic assays and breakthrough drugs. The outbreak of the disease affected 208 countries with 2,000-5,000 new cases every day and redirected the focus of the healthcare industry solely to diagnosis and treatment of COVID-19.
As a result, previously planned and ongoing R&D and clinical trial programs have been suspended or interrupted and the number of clinical trials has declined over the last few months. As per the Clinical Trials Online Magazine, the number of clinical trials in June 2020 was 1,210, down to 1,180 in August 2020. Most investors concentrate on research and development of COVID-19 medicines. Moreover, the expected or ongoing contract-based clinical trial activities and research and development are lagging behind due to delay of registrations, slow initializations, and lack of funding for non-COVID-19 drugs.
Global Healthcare Contract Research Outsourcing Market: Segmentation
On the basis of services, the global market is categorized into clinical trial services, clinical data management & biometrics, pharmacovigilance, regulatory services, medical writing, site management protocol, and others. The most popular outsourced services rendered by healthcare firms are clinical trials, due to the globalization of clinical trials and the lack of therapeutic experience in the unexplored niche market for new drug growth. However, due to the increased strictness of regulatory bodies, complex regulatory processes and changing regulatory criteria, the outsourcing of regulatory services is increasing. Due to increased monitoring by regulatory bodies such as the FDA and European Medicines Agency (EMA) at every step of clinical trial and changing regulatory standards according to the region, the outsourcing of regulatory services is expected to increase.
By therapeutic area, the global healthcare contract research outsourcing is categorized into oncology/hematology, CNS, respiratory, immunology, CV/metabolic, rare diseases, infectious diseases, and others. The oncology/hematology therapeutic category is expected to lead the market in terms of revenue in the coming years, due to factors such as enormous unmet treatment needs, a strong product pipeline, intensified competition and rising oncology incidence. The multiple benefits available by outsourcing of oncology/hematology related services have led to a key segment share in the global market.
Global Healthcare Contract Research Outsourcing Market: Regional Analysis
By Geography, the healthcare contract research outsourcing market is segmented into North America, Europe, Latin America, Asia Pacific, and Middle East and Africa.
North America has dominated the global market and is expected to lose marginally its market share in the coming years. The demand in North America is mainly powered by advanced clinical research site facilities and effective government incentive schemes in the United States. In addition, expanded access to advanced technology and therapeutic knowledge is expected to fuel the growth of clinical trial services in the United States during the forecast period.
In Europe, the rise in the demand for healthcare contract research organizations services is mainly due to the growing number of clinical trials and increased spending on research and development and outsourcing activities. Factors such as rigid drug approval laws impede the development of the market. In addition, the growing demand for biosimilars and biologics and the development of research technology are likely to accelerate the growth of the healthcare contract research services market during the forecast period.
Asia Pacific is expected to be the most lucrative market for healthcare contract research outsourcing with the maximum attractiveness index. The market in the Asia-Pacific region is expected to grow at a fastest rate during the forecast period. The large patient population in emerging countries such as China and India, firmly-established data integrity regulations and strong healthcare IT budgets in countries such as Taiwan, Japan, Malaysia, South Korea, Singapore, etc., are the factors driving market demand in Asia Pacific. The Latin American market is set to expand at a moderate growth rate during the forecast period.
Global Healthcare Contract Research Outsourcing Market: Competitive Players
The major players in the global healthcare contract research outsourcing market include Syneos Health, PRA Health Sciences, Inc., IQVIA, ICON PLC, PAREXEL International, Laboratory Corporation of America Holdings, Medpace, Charles River, and Pharmaceutical Product Development, LLC, among others.
The report segment of global healthcare contract research outsourcing market are as follows:
Global Healthcare Contract Research Outsourcing Market: Service Segment Analysis
Clinical Trial Services
Clinical Data Management & Biometrics
Pharmacovigilance
Regulatory Services
Medical Writing
Site Management Protocol
Others
Global Healthcare Contract Research Outsourcing Market: Therapeutic Area Segment Analysis
Oncology/Hematology
Respiratory
Central Nervous System (CNS)
Cardiovascular (CV)/Metabolic
Rare Diseases
Infectious Diseases
Immunology
Others
Global Healthcare Contract Research Outsourcing Market: End-User Segment Analysis
Pharmaceutical Companies
Medical Devices
Biotechnology Companies
Government Organizations
Academic Institutes
Global Healthcare Contract Research Outsourcing Market: Regional Segment Analysis
North America
Europe

France
The UK
Spain
Germany
Italy
Rest of Europe

Asia Pacific

China
Japan
India
South Korea
Southeast Asia
Rest of Asia Pacific

Latin America

Brazil
Mexico
Rest of Latin America

Middle East & Africa

GCC
South Africa
Rest of Middle East & Africa