Free Analysis
Polycarbonate is one of the finest plastic materials available globally. It is durable, moldable, flame resistant, lightweight, shatterproof, and energy-efficient. Polycarbonate panels are extremely tough and absorb minimal moisture apart from being damage and water resistant.
The global polycarbonate panels market is expected to grow rapidly in the years ahead owing to the rising product application in several end-user industries, such as automotive, construction, and electronics. Due to the versatile properties of polycarbonate panels, such as excellent elasticity, lightweightness, high impact strength, and high functionality at a wide range of temperatures, they are extensively used in the automotive industry. Moreover, the growing demand for polycarbonate panels by the construction industry is likely to be another major factor driving this global market in the upcoming years. However, the high environmental impacts of polycarbonate panels might hamper the global market's growth over the estimated timeframe. Alternatively, the rising application of polycarbonate panels in the medical industry is projected to offer new growth opportunities in the future.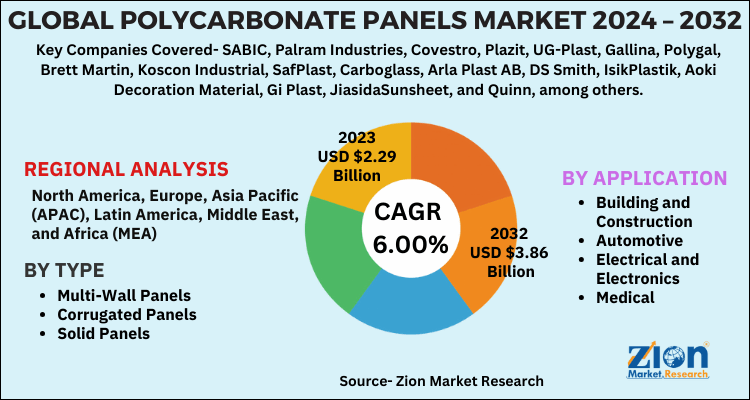 The global polycarbonate panels market is classified based on type and application. The type segment includes multi-wall panels, corrugated panels, and solid panels. Multi-wall panels held the significant share of the global polycarbonate panels market in 2017 due to their superior properties, such as lightweightness, high UV resistance, and excellent transparency. These properties make them very useful in the production of skylights, displays, signage, decorative partitions, and greenhouses. By application, the global market includes building and construction, automotive, electrical and electronics, medical, and others. The building and construction sector is projected to dominate the market in the future, owing to the ongoing infrastructural activities in the Asia Pacific and the Middle Eastern and African regions and the increasing demand for polycarbonate panels for screening, roofing, and safety purposes.
By region, the global polycarbonate panels market includes North America, Europe, Latin America, Asia Pacific, and the Middle East and Africa. The Asia Pacific region was the largest contributor to the global polycarbonate panels market in 2018 and is expected to dominate the market in the future. The emerging construction activities and the rising population are likely to be the key factors driving this regional market. North America and Latin America are estimated to grow considerably over the forecast time period owing to the flourishing automotive industry.
Some key players of the global polycarbonate panels market are SABIC, Palram Industries, Covestro, Plazit, UG-Plast, Gallina, Polygal, Brett Martin, Koscon Industrial, SafPlast, Carboglass, Arla Plast AB, DS Smith, IsikPlastik, Aoci Decoration Material, Gi Plast, JiasidaSunsheet, and Quinn, among others.