Analysis
The pigment is a type of colorant which is insoluble in liquids. Pigments are a substance that occurs in a plant or animal tissue and have a characteristic color. It is generally in a powdered form which is mixed in liquid to obtain paint, ink, etc. Pigment changes the color of the reflected or transmitted light because of its selective wavelength absorption property. It is stable in its solid form. Pigments are insoluble in water and oil or any other media to which they are added. They are not affected physically or chemically in the media or substance in which they are incorporated. Pigments are generally organic and inorganic pigments. Inorganic pigments there is the presence of a hydrocarbon ring and are members of porphyry family. Organic pigments are generally extracted naturally. Pigments are used to color paint, ink, plastic, fabric, cosmetics, food and other materials. Pigments also have non- coloring applications. For Instance, iron oxide pigments are used in lithium-ion batteries. Pigments are also prevented the surface from weathering and corrosion.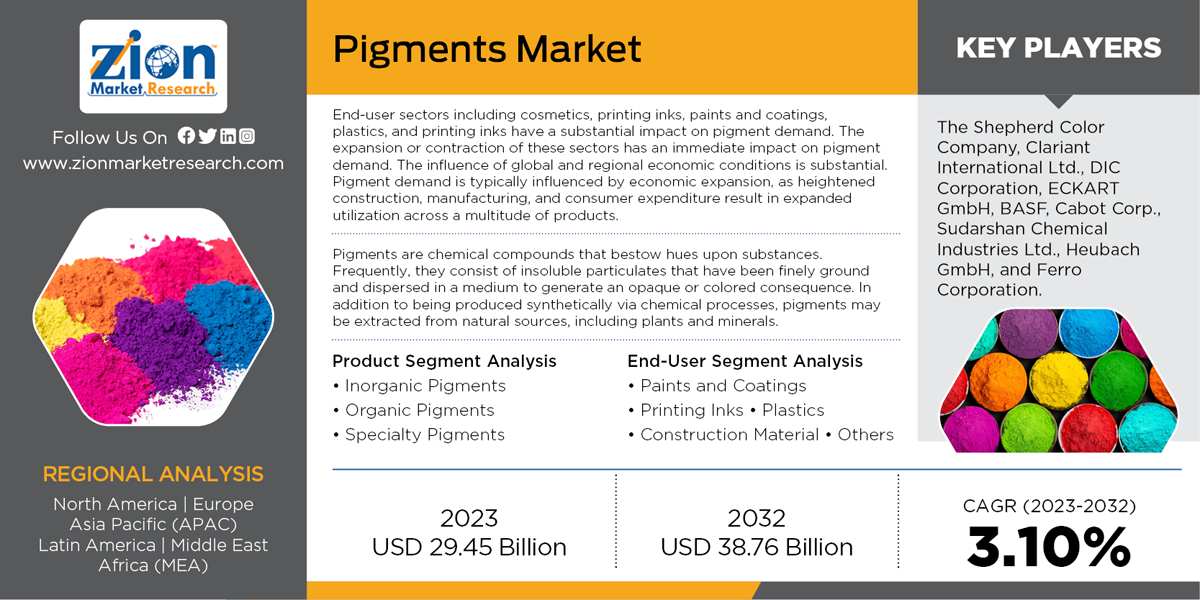 Growing construction sector is the major factor which drives the growth of global pigment market. People prefer high end quality paint due to which there is increase in the demand for pigment as pigment is used to make different types of paint like metallic paints. Pigments not only have coloring property but it also exhibits different properties like volume filler, and gives metallic effects. Increased industrial activities also act as a driver for the growth of the global pigment market. However due to the stringent laws in various countries there is a decrease in the growth of pigments market. This region mainly includes North America, where the policies for using pigments are stringent. Pigments are generally incorporated in crude oils for its application, but due to fluctuating crude oil prices, there is effect on the global pigments market as it acts as a restraint for market growth.
Based on product, the market is segmented into organic pigments, inorganic pigments and specialty pigments. The organic pigment is expected to exhibit the highest growth in the forecast period. As there is increase in awareness about the eco-friendly pigments, demand for organic pigment is expected to grow.
Based on end user, the market is segmented into paints and coatings, printing inks, plastics, construction material and others. Paints and coatings segment is expected to grow at the fastest rate over the forecast period.
Asia Pacific is projected to continue its supremacy, in global pigments market in the forthcoming years. The growth of this regional market is due to the increase in the demand for construction materials in the developing countries.
Some of the key players in the global pigments market are The Shepherd Color Company, Clariant International Ltd., DIC Corporation, ECKART GmbH, BASF, Cabot Corp., Sudarshan Chemical Industries Ltd., Heubach GmbH, and Ferro Corporation. Major players are frequently engaged in mergers & acquisitions to retain their market share and diversify their product portfolio. Currently, the market's growth rate is very high, which has encouraged the leading players to focus on consolidation through employing the best possible technologies.