Analysis
A sensor that emits a visible or infrared light beam from an assembled light-emitting element is called photoelectric sensor. It is mainly used for detecting photo-optical applications.
The prominent factor propelling the photoelectric sensors market is its functionality of facilitating both short- and long-range detection. Unlike conventional switches, these sensors possess are less prone to wear and tear. The rising penetration of photoelectric sensors is due to its capability to detect any type of materials, such as metals, wood, plastics, liquid, or glass, which is also driving the photoelectric sensors market. Various benefits facilitated by photoelectric sensors also play a crucial role in driving this market. The sensing range of photoelectric sensors usually gets affected due to reflectivity and target color, which may hamper the market to some extent. Alternatively, the leading manufacturers of sensor technologies are witnessing continuous demand for miniaturization. In such a scenario, photoelectric sensors are highly preferred as they are comparatively compact and lightweight. Moreover, photoelectric sensors are witnessing high demand from various industry verticals, such as automotive, industrial manufacturing, and packaging, which will generate lucrative market opportunities in the upcoming years.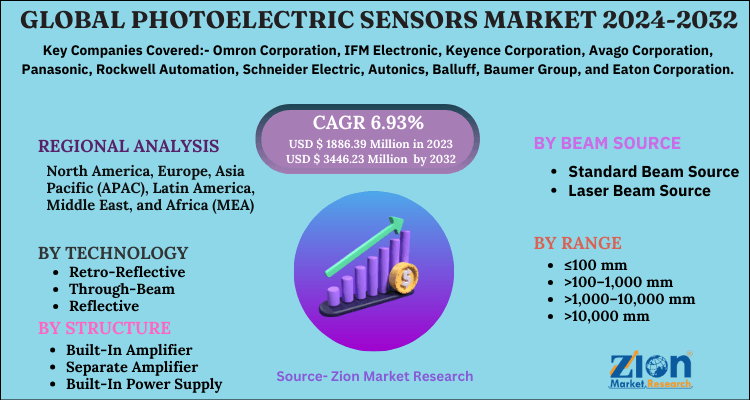 The photoelectric sensors market is categorized based on technology, structure, beam source, range, and end-use. The technology segment includes retro-reflective, reflective, and through-beam. The structure segment is classified into separate amplifier, built-in amplifier, fiber type, and built-in power supply. The beam source segment is categorized into standard and laser beam sources. Laser sensors are technically revolutionizing the photoelectric sensors market. The laser beam segment is estimated to witness remarkable growth, as these sensors are highly preferred for critical applications. By range, the market includes >10,000 mm, >1,000–10,000 mm, >100–1,000 mm, and≤100 mm. By end-use, the market comprises pharmaceuticals and medical, automotive and transportation, consumer electronics, industrial manufacturing, food and beverages, building automation, and others. Photoelectric sensors are extensively deployed in automotive applications, such as detecting automobiles in parking lots and shiny obstacles, which will fuel this segment's growth in the future.
The Asia Pacific is expected to register lucrative growth opportunities in the photoelectric sensors market over the forecast time period. The region is projected to attain substantial market share by the end of 2019. India, South Korea, and China are leading market contributors to the regional market.
Some globally renowned players of the photoelectric sensors market are Omron Corporation, IFM Electronic, Keyence Corporation, Avago Corporation, Panasonic, Rockwell Automation, Schneider Electric, Autonics, Balluff, Baumer Group, and Eaton Corporation.