Analysis
Peracetic acid is also known as peroxyacetic acid or PAA. Peracetic acid is a liquid organic compound that possesses acrid odor of acetic acid and can be extremely corrosive. It is a mixture of hydrogen peroxide and acetic acid in water solution, which is widely used in the food industry as a cleaner and disinfectant. Peracetic acid is a versatile and environmentally safe anti-microbial agent and powerful antioxidant.
The peracetic acid market is likely to grow at a fast rate in the years ahead, owing to the increasing demand for an anti-microbial agent in the food processing and beverage industry. Due to the strong oxidizing properties of peracetic acid, it is extensively used in the pulp and paper industry. This, in turn, is projected to drive the peracetic acid market globally in the future. In addition, it is also used as a biocide in the agricultural and horticultural industries. However, peracetic acid has some side effects, such as eye and skin irritation, asthma, and lung damage. The escalating demand for peracetic acid by the water treatment industry is anticipated to propel this market's growth in the future.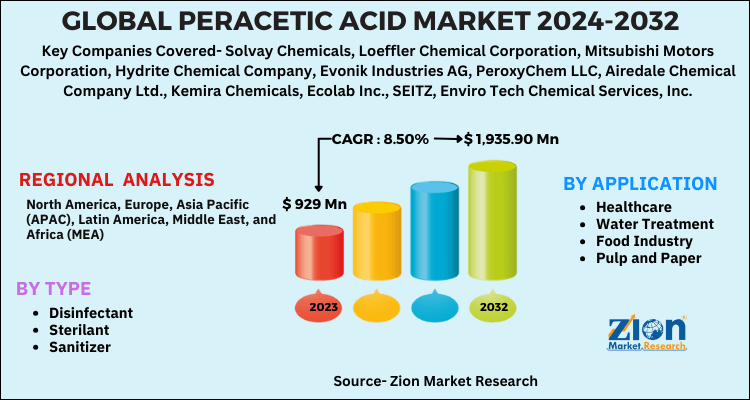 The peracetic acid market is bifurcated into type and application. By type, the market includes disinfectant, sterilant, sanitizer, and others. In 2017, disinfectants held the largest share of the global peracetic acid market. The increasing use of peracetic acid-based disinfectants in several industries is projected to drive the disinfectants' dominance over the forecast time period as well. By application, this market is segmented into healthcare, water treatment, food industry, pulp and paper, and others. Water treatment is likely to dominate the market in the future, due to stringent government regulations for safeguarding marine life.
Geographically, the peracetic acid market is classified into North America, Europe, Asia Pacific, Latin America, and the Middle East and Africa. The Asia Pacific region is projected to grow at the fastest rate in the upcoming period, owing to high product demand by various end-user sectors, such as food, water treatment, and healthcare. China holds the largest market share in this regional market. The European peracetic acid market is primarily driven by the region's thriving healthcare sector. Latin America is expected to grow significantly in the years ahead, owing to the rising awareness about the hygienic environment.
Some key manufacturers of the peracetic acid market are Solvay Chemicals, Loeffler Chemical Corporation, Mitsubishi Motors Corporation, Hydrite Chemical Company, Evonik Industries AG, PeroxyChem LLC, Airedale Chemical Company Ltd., Kemira Chemicals, Ecolab Inc., SEITZ, Enviro Tech Chemical Services, Inc., and Aditya Birla Chemicals, among others.