Analysis
Peptide therapeutics is a type of treatment in which the peptides are used to activate the functions of the cells against the diseases. The peptide is a signaling molecule which binds to the receptors on the cells to activate the cell to secrete molecules.
According to WHO (World Health Organization), the population aged above 65 years is expected to increase to 2 billion by 2050. Mainly the population above 65 years suffers from various chronic diseases. This increases the demand for peptide therapy due to an increase in the awareness about the novel and effective drugs. Also, the massive investments made by the government and companies for research & development activities across pharmaceutical, biotechnological, and biopharmaceutical industries is likely to propel the growth of the peptide research, which, in turn, will further fuel the peptide therapeutics market trends. The development of advanced technologies and product in peptide therapy and rise in people suffering from metabolic, cardiovascular, respiratory, and other diseases are some of the factors contributing to the growth of the peptide therapeutics market.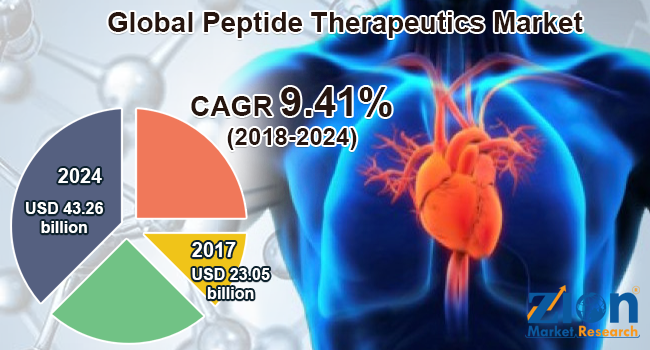 The Peptide therapeutics market is segmented on the administration route, type, type of manufacturers, type of molecule, technology, and application. Based on the route of administration, the market is divided into parenteral, oral, and others. On the basis of type, the peptide therapeutics market is further segmented into generic and innovative. Type of manufacturers includes in-house and outsourced segment. Based on the type of molecule, the market for peptide therapeutics is segmented into natriuretic, somatostatin, vasopressin, immunopeptide, calcitonin, and others. On the basis of technology, the market for peptide therapeutics is further segmented into the liquid phase, hybrid phase, and solid phase. The application segment includes cancer, metabolic disease, cardiovascular disease, infectious disease, respiratory disease, and others.
North America is anticipated to lead the market in the upcoming period due to the advancement in the use of peptide therapeutics as a drug to treat cancer and the rising incidences of chronic diseases and cancer. Asia Pacific peptide therapeutics market is expected to show the highest growth, owing to the presence of established API providers and generic industry with the stable economy rate in some countries of Asia Pacific. Also, the increased investment in biotechnological & pharmaceutical industry by government and companies are driving the growth of the peptide therapeutics market.
The main players in the global peptide therapeutics market are Amgen Inc., Pfizer Inc., Eli Lilly and Company, Teva Pharmaceuticals Industries Ltd., Lonza Inc., Takeda Pharmaceutical Company Limited, Bristol-Myers Squibb, Sanofi, AstraZeneca PLC, and Novartis AG. The main companies are focusing on increasing mergers, collaborations, and acquisitions. For instance, Cancer Research UK entered an agreement with Bicycle Therapeutics for funding the clinical trial of Phase Ia and Ib which can be used for the treatment of solid tumors.