Analysis
Parkinson's disease (PD) is a nervous system disorder that increases in severity with time. The disease is characterized by its bradykinesia, rigidity, tremor, and postural instability. Some of the most common symptoms of Parkinson's disease include arms, hand, or leg tremors, problems associated with balancing and walking, stiff muscles, and slow physical movements. Other symptoms include constipation, trouble in swallowing, dementia, fixed or blank expressions, and speech disabilities. However, the exact cause causing the disease is still not known, but it generally affects the patients of the older age group, i.e., mostly more than 50 years in age.
The global Parkinson's disease therapeutics market is likely to be driven by the launch of prominent pipeline drugs like ND0612H, Accordion Pill, APL-130277, P2B-001, etc., increasing research and development activities for the development of novel Parkinson's disease therapeutic drugs, and rising Parkinson's disease incidences. The incidence rate of Parkinson's disease increases with growing age. Additionally, the world's population above 65 years is likely to increase from 6.8% in 2000 to almost 17% by 2050, which is a major driver for Parkinson's disease therapeutics market growth.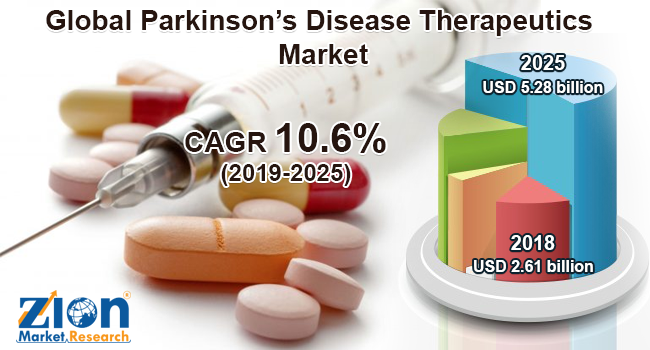 Based on drug class, the market includes dopamine agonists, catechol-o-methyltransferase (COMT) inhibitors, anticholinergic drugs, levodopa combination, monoamine oxidase B (MAO-B) inhibitors, and others. Based on route of administration, the market includes transdermal, oral, subcutaneous, and intestinal infusion. The oral segment held a significant share of the market in 2018 globally. The distribution channel of the Parkinson's disease therapeutics market is fragmented into retail pharmacy, online sales, and hospital pharmacy. The retail pharmacy segment dominated the global market in 2018 and is projected to hold a significant market share in the future.
By region, Europe holds a major share of the global Parkinson's disease therapeutics market followed by the North American region. Favorable medical reimbursement policies, rising funding and grants for research, high Parkinson's disease prevalence, and growing awareness about the disease are contributing to the European Parkinson's disease therapeutics market. In the North America market, alone there are more than 10 different drugs under phase III clinical pipeline studies for treating different symptoms of Parkinson's disease in the U.S. alone. The Asia Pacific Parkinson's disease therapeutics market is likely to show a moderate CAGR, owing to a large base of the elderly population suffering from Parkinson's disease, particularly in China and Japan.
Some players of the global Parkinson's disease therapeutics market are Teva Pharmaceutical, STADA Arzneimittel, Impax Laboratories, Novartis, F. Hoffmann-La Roche, Merck & Co., UCB Inc., GlaxoSmithKline, AbbVie, and Valeant Pharmaceuticals International.