Analysis
A paper bag is made of paper, such as kraft paper. Paper bags are commonly used for packaging, shopping bags, and sacks. Recycled paper can also be used to produce paper bags, where certain laws are required for paper bags to have a minimum percentage of post-consumer recycled content.
The global paper bags market is expected to grow rapidly in the fut6ure, owing to the stringent regulations regarding plastic bags that are negatively affecting the environment across the globe. Moreover, the rising population in developing countries like China, India, and Brazil has propelled the demand for shopping, which, in turn, has increased the use of paper bags. Additionally, the increasing demand for cosmetics and personal care products is also expected to drive the paper bags market for these applications. However, the fluctuating product prices may hamper the paper bags market globally in the years ahead. Conversely, the increasing innovation in product design is estimated to create new opportunities for market growth in the future.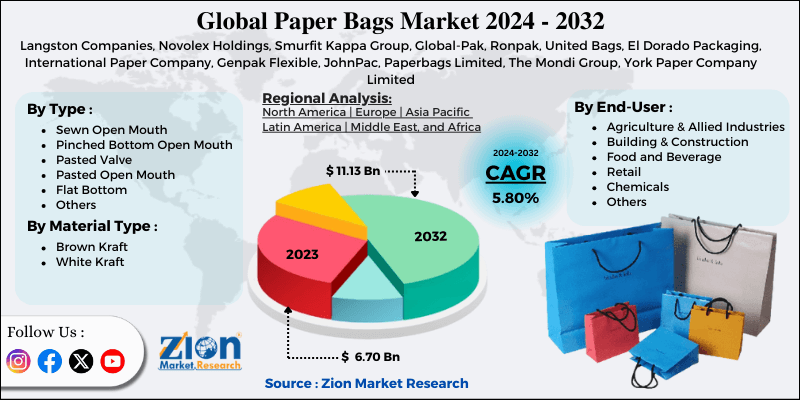 The global paper bags market is classified on the basis of type, material type, and end-user. The type segment of the paper bags market includes pasted open mouth, sewn open mouth, pinched bottom open mouth, flat bottom, pasted valve, and others. Pinched bottom open mouth paper bags accounted for the largest market share in 2018, followed by sewn open mouth bags. Pinched bottom open mouth bags are widely used for packaging across various industries. Based on material type, the paper bags market is bifurcated into brown kraft and white kraft. Brown kraft is the dominating material type of the global paper bags market and is projected to show the highest growth rate over the forecast time period. The end-user segment of the paper bags market is divided into agriculture and allied industries, building and construction, food and beverage, retail, chemicals, and others. The retail segment is the largest consumer of paper bags, due to the growing number of retailers across the globe.
Geographically, the North American paper bags market dominated globally in 2018. This regional dominance can be attributed to the region's growing food and beverage industry. The Asia Pacific region was the second largest paper bags market globally in 2018 and is projected to be the fastest growing regional market in the future.
Some key players of the global paper bags market are Langston Companies, Novolex Holdings, Smurfit Kappa Group, Global-Pak, Ronpak, United Bags, El Dorado Packaging, International Paper Company, Genpak Flexible, JohnPac, Paperbags Limited, The Mondi Group, and York Paper Company Limited.