Analysis
Packaging plays a key role in the marketing of a product, as it is one of the most significant factors that determine the sales of the product. Advancement in packaging automated solutions has been emerging as an important factor due to rising popularity of shelf service marketing which results in effective & speedy packaging process by manufacturers with minimal manual interventions. These solutions have major applications in wide range of packaging processes such as product shipment, product sorting, product storage, and product handling. Growing demand from packaging manufacturers to speed up packaging process to meet consumer demands is the major factor expected to drive the packaging automation market growth over the forecast period.
Automation is mostly used in the packaging industry to improve labor productivity, ensure the quality of packaging, and also to decrease storage and packaging cost. Safety regulations are the foremost concern among manufacturers particularly in the food and beverage and healthcare industries. Regulations associated with safety can also adhere to the developing applications which include automated reporting capabilities that aid in generating brief reports for each line of packaging. The packaging also helps to protect the products from dust, physical damage, and various other factors. In order to gain maximum profits, cost-cutting is a major factor in the light of intense competition coupled with increased globalization of manufacturing. However, the requirement of high level of maintenance and high capital cost for automated packaging systems is expected to restrain industry growth in the future years.
Based on product type, the packaging automation market is segmented into packaging robots, automated conveyors, and automated packagers. On the basis of application, the market is segmented into form, filling & sealing (FFS), capping, labeling, wrapping, palletizing, and others. Based on end users, the market is segmented into healthcare & pharmaceutical, food & beverage, logistics & e-commerce, automotive, chemicals, and others.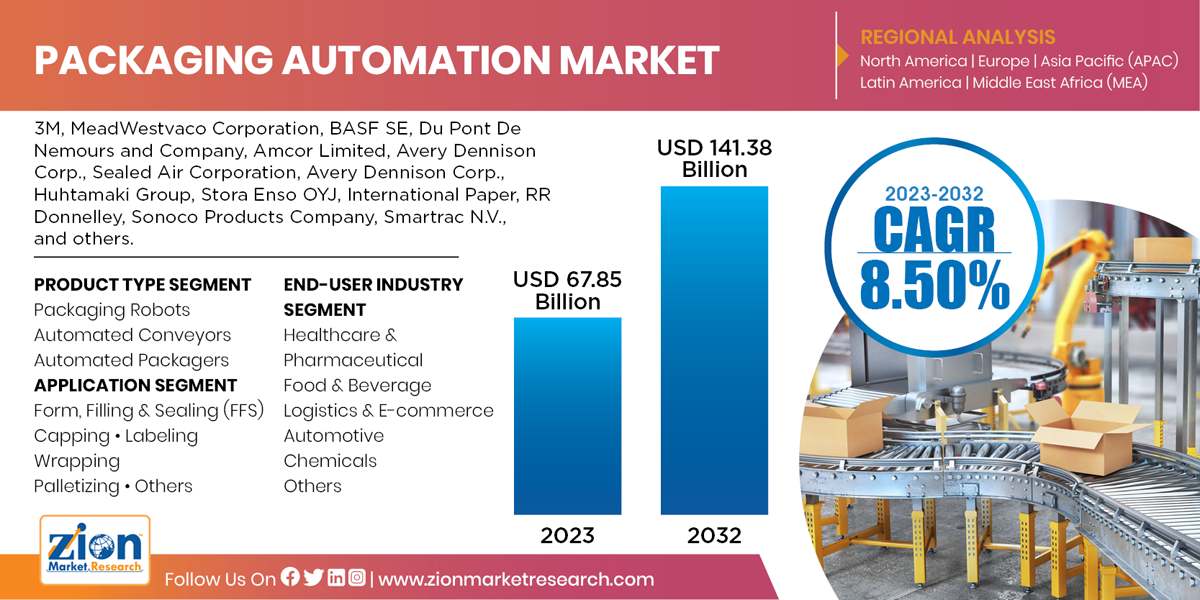 Europe held major revenue share of the global packaging automation market in 2017 and the region is anticipated to continue with its regional supremacy over the forecast period. The growth of this regional market is attributed due to the presence of major companies in the region that are engaged in offering user-friendly, cost-effective, and advanced packaging automation solutions. The Asia Pacific is projected to provide significant opportunities for packaging automation. The region is the hub for food and beverages, healthcare, and automotive industries, which will increase demand for advanced packaging solutions.
Some of the key players operating in packaging automation market include 3M, MeadWestvaco Corporation, BASF SE, Du Pont De Nemours and Company, Amcor Limited, Avery Dennison Corp., Sealed Air Corporation, Huhtamaki Group, Stora Enso OYJ, International Paper, RR Donnelley, Sonoco Products Company, Smartrac N.V., and others. Industry players are mostly focusing on developing innovative products and services to gain maximum revenue share.