Free Analysis
Online travel booking service is accessible twenty-four by seven via online browsers, websites, etc. and helps in saving time and efforts of consumers to book any sort of travel service. Currently, market players are engaged in offering travel services through mobile apps and websites, as it is one of the majorly preferred media for travel bookings, especially among young professionals. The process of online travel booking is quick and easy which is driving the global online travel booking market.
Growing digitization and globalization globally coupled with the rising adoption of online payment is anticipated to further drive the online travel booking market over the forecast timeframe. Increasing penetration of internet, the rising disposable income of people in emerging countries and ease of comparing various travel options online is predicted to drive the online travel booking market in the future. Industry players are constantly introducing novel travel and vacation package deals to assist tourists in making proper travel decisions according to their spending capabilities, such as affordable packages for international destinations, discount on car rentals, cash back on international flights, etc. It is also simple for tourists to modify or cancel reservations online, instead of calling the hotels or airlines and waiting for a customer service representative to aid through the process of cancellation.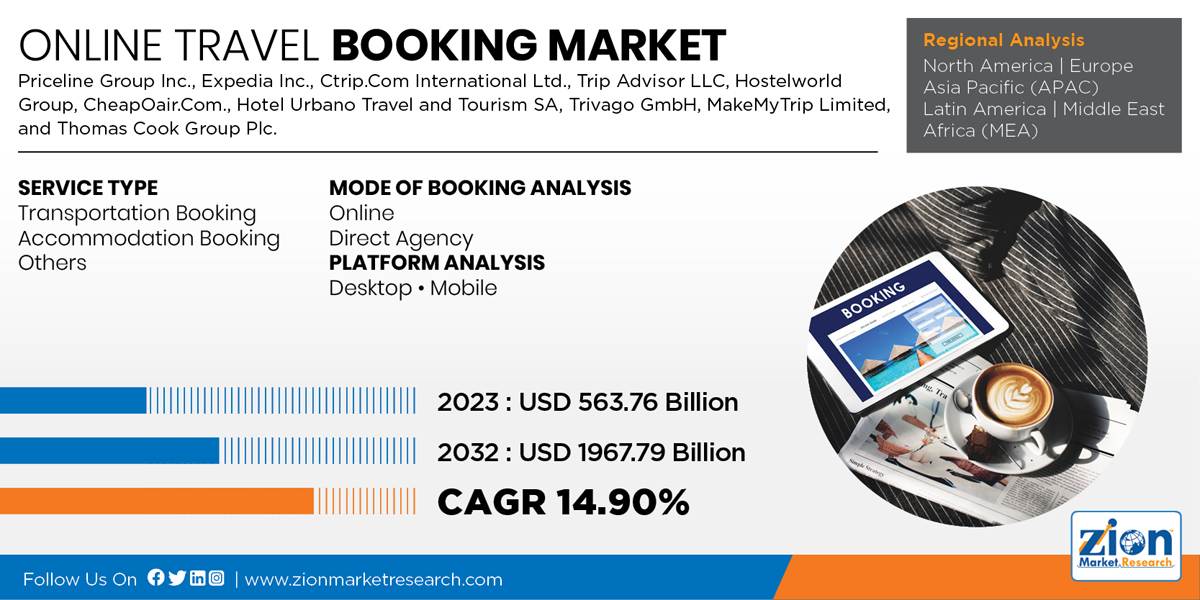 By on service type, the online travel booking market is segmented into transportation booking, accommodation booking, and others. By mode of booking, the market is segmented into online and direct agency. By platform, the market is segmented into desktop and mobile.
North America, Europe, Asia Pacific, Latin America, and the Middle East and Africa comprise the regional segment of the global online travel booking market. North America held a major market share in 2017 with the U.S. being a major revenue contributor. The region is expected to grow substantially over the forecast timeframe, due to the increasing adoption of mobile applications for online travel booking, especially in the transportation sector. The Asia Pacific online travel booking market is likely to grow at the fastest rate in the future, due to digitization trends and internet penetration in the region.
Some key players operating in the global online travel booking market include Priceline Group Inc., Expedia, Inc., Ctrip.Com International, Ltd., Trip Advisor LLC, Hostelworld Group, CheapOair.Com., Hotel Urbano Travel and Tourism SA, Trivago GmbH, MakeMyTrip Limited, and Thomas Cook Group Plc.