Free Analysis
Nutraceutical excipients market is rapidly growing on account of demand from several regions of the world. Nutraceutical refers to a material used standard nutrient or pharma grade nutrient. They are most commonly used as pharmaceutical formulations and food additives which are granted by the U.S. FDA under food and cosmetic act. The nutraceutical excipients are bioactive compounds, which are used to improve the bioavailability of nutraceuticals. Excipients most commonly provide functionality in medical dosage forms and help in improving the drugs functionality in the body of a recipient.
Increased consumer awareness about health & fitness coupled with the nutraceuticals being added in the pharmaceuticals & food products and supplement industry and rise in disposable income in emerging countries are the factors expected to boost the growth of nutraceutical excipients market in the forecast years. In addition, increase in the occurrence of lifestyle-related diseases such as diabetes, cardiac diseases, and blood pressure has aided in fueling the growth of the market. However, the amount of nutrients consumed by population is less than required due to a hectic lifestyle and rising health care expenditure. Less intake of nutrition is due to the consumer's busy lifestyle and high cost of healthcare. Furthermore, increasing advancements in technology for the development of nutraceuticals result in providing significant opportunities to various pharmaceutical sectors. Several factors can hamper the growth of the market such as declining R&D investment and research related to nutraceuticals excipients.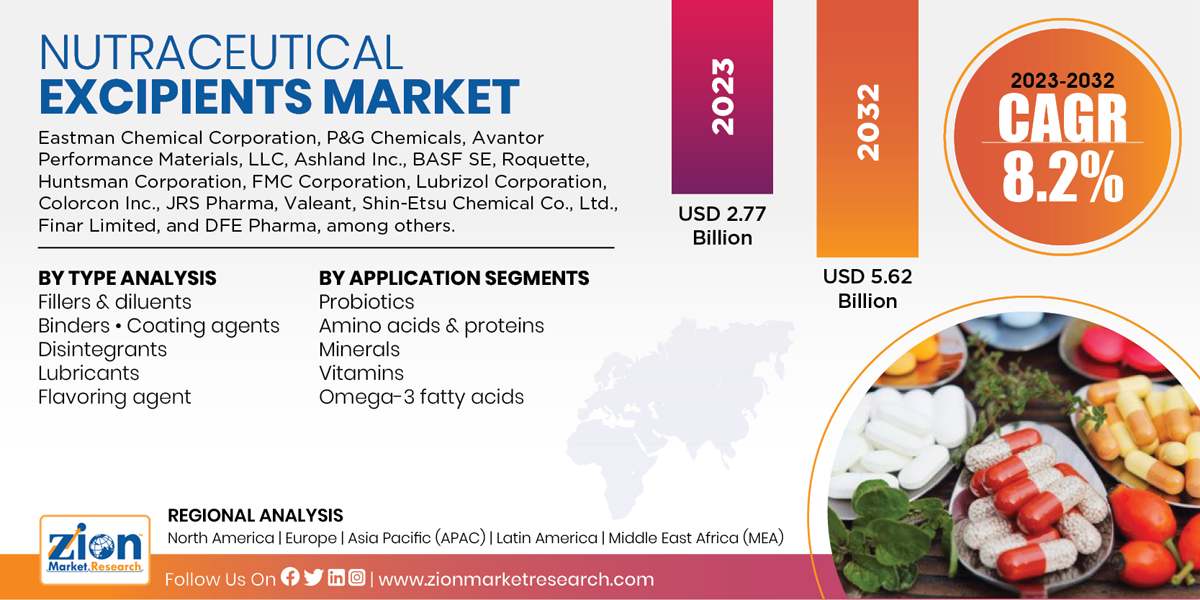 Nutraceutical products are unstable to alkaline pH, oxygen, heat and light, and high humidity. Nutraceuticals excipients such as coating agents, flavoring agents, disintegrants, lubricants, binders, fillers, and diluents help to control the unstable nature of nutraceutical products. It also has variable particle size distribution, poor flow, and poor bulk density. Nutraceutical excipients are used as a binder in a tablet which helps to stabilize active ingredients in the formulation. Nutraceutical excipients are used in different form of supplements ex. capsules, liquid syrups, powders, and tablets.
The nutraceutical excipients market is segmented into categories by their application namely probiotics, prebiotics, proteins & amino acids, vitamins, minerals, omega-3 fatty acids. The probiotics and prebiotics segment accounted for the majority of the global volume in 2017. Vitamins and minerals are expected to be the fastest growing segment in the forecast period. On the basis of type, the global nutraceutical excipients market is categorized into lubricants, disintegrants, coating agents, binders, fillers & diluents, and flavoring agents.
North America accounted for a significant market share and is expected to grow in light of the redevelopment activities and changing trends in health care. Asia Pacific is expected to be the fastest growing market owing to rising nutritional and healthcare development activities in the region, especially in countries like India and China. The enormous population in the region is also expected to be a major factor for the growth of the market.
The key players operating in this industry are Eastman Chemical Corporation, P&G Chemicals, Avantor Performance Materials, LLC, Ashland Inc., BASF SE, Roquette, Huntsman Corporation, FMC Corporation, Lubrizol Corporation, Colorcon Inc., JRS Pharma, Valeant, Shin-Etsu Chemical Co., Ltd., Finar Limited, and DFE Pharma, among others