Analysis
Network as a service is a virtual network provided by the vendors of the network infrastructure to the customer or third parties.
The network as a service market will grow in the future, owing to the rising use of cloud computing technology by small- and medium-sized enterprises, which are gradually moving their workloads to the cloud. The increase in data, which is being generated via various digital platforms, along with the rising trend for employee mobility has put immense pressure on the enterprise network. Therefore, enterprises are shifting to cloud, as it will help in hosting an extensive range of business applications. Cloud-based network as a service helps in deploying applications augmented by numerous network functions, such as service differentiation, virtual firewalls, and virtual routers. The network as a service market growth is also supported by the widespread acceptance of network virtualization technologies, such as network functions virtualization and software-defined networking. This will provide a platform for NaaS and allow enterprises to sell their network services to customers on subscription basis. The rising necessity of low-latency along with high-performance infrastructure, redundancy and data security, shared cost model are stimulating the cloud computing market globally, thus propelling the network as a service market. However, the sluggish adoption of cloud technology owing to security-related issues in organizations using cloud technology may restrain the network as a service market.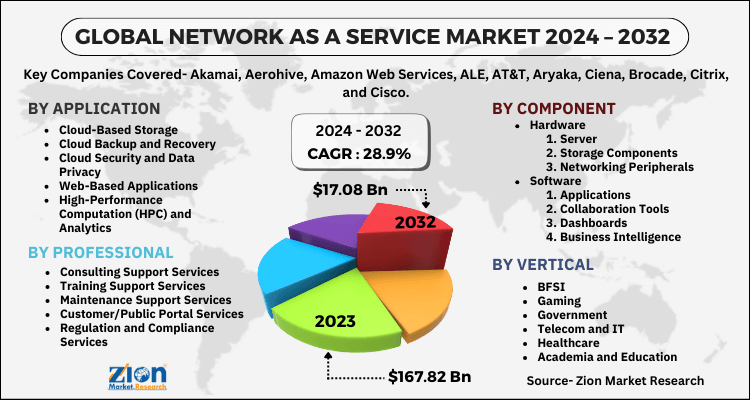 The vertical segment of the network as a service market is categorized into academia and education, gaming, BFSI, telecom and IT, government, healthcare, and others. The telecom and IT segment is anticipated to witness rapid growth in the upcoming years. These industries are anticipated to have minimized costs and improved quality in business functions, owing to the implementation of NaaS. The mentioned industry requires connectivity to connect to its users globally and maintaining the relationship between customers and partners. Furthermore, this segment is also expected to grow owing to the increase in small- and medium-sized businesses along with the increasing utilization of NaaS by these businesses.
North America is anticipated to lead the network as a service market globally, owing to the extensive research and development in technology regarding the expansion of network. Moreover, owing to the presence of developed counties in the region, the demand for network as a service will experience boost along with the rising service demand by industrial and private sectors.
Some key players of the network as a service market are Akamai, Aerohive, Amazon Web Services, ALE, AT&T, Aryaka, Ciena, Brocade, Citrix, and Cisco.