Analysis
Sweeteners are substances that are used to enhance the shelf life and palatability of food products. The solute concentration of sweeteners usually impedes mold and bacterial growth. Sugars occur naturally in many plant foods. Sweeteners are processed by plants, such as sugar cane, coconut palms, agave cacti, maple trees, sugar beets, and corn, to extract sugars. In case of honey, bees do the work of extracting and processing the flower nectar. Honey was the first natural sweetener, which has been added to foods and beverages for decades. The best natural sweetener is selected while considering various factors, such as its effect on blood sugar and dental hygiene, beneficial effects, calories, price, taste, and effectiveness in cooking.
Sweetness balances sourness, bitterness, saltiness. Most people prefer a sweet taste, which is expected to increase the demand for natural sweeteners in the upcoming years. The growing population of health-conscious across the world and increasing use of natural sweeteners are expected to drive the global natural sweeteners market over the forecast time period. Natural sweeteners have functional properties that improve the quality and taste of various foods and beverages apart from providing stability, which is also expected to drive the natural sweeteners market growth over the estimated timeframe. Furthermore, technological advancements are leading to new product development. Rising government initiatives by the introduction of various regulations for the use of natural sweeteners in processed foods is likely to positively impact the natural sweeteners market in the upcoming years.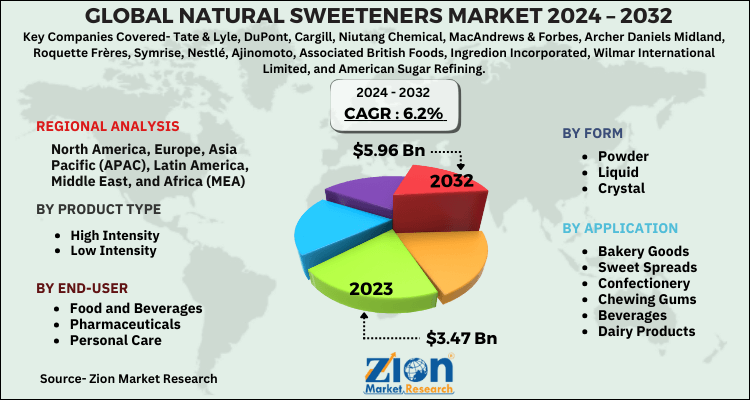 Based on type, the natural sweeteners market is bifurcated into low intensity and high intensity. By form, the market is segmented into powder, liquid, and crystal. Based on application, the market includes sweet spreads, confectionery, bakery goods, beverages, dairy products, and chewing gums. The end-user segment comprises food and beverages, pharmaceuticals, and personal care.
North America accounted for a significant share in the global natural sweeteners market in 2018, due to the increasing adoption of natural sweeteners by various food and beverage manufacturers in the U.S. The Asia Pacific natural sweeteners market is predicted to register the highest CAGR over the forecast time period, due to the rising concerns about increasing incidences of health problems like diabetes and obesity. Moreover, sugar taxes in various countries are expected to draw attention toward the acceptance of non-caloric products with natural sweeteners as their main ingredient.
Some major players operating in the global natural sweeteners market include Tate & Lyle, DuPont, Cargill, Niutang Chemical, MacAndrews & Forbes, Archer Daniels Midland, Roquette Frères, Symrise, Nestlé, Ajinomoto, Associated British Foods, Ingredion Incorporated, Wilmar International Limited, and American Sugar Refining.