Analysis
Nanophotonics is the branch of physics that deals with the behavior of light on the nanometer scale. The term nanophotonics is derived from an amalgamation of three sciences: nanotechnology, photonics, and optoelectronics. As optoelectronics and photonics have already revolutionized the electronics and semiconductors market, bringing them to nanoscale has tremendous future market growth. The adoption of renewable sources of energy has turned the focus on increasing the solar power capacity and solar cells. There are numerous nanophotonic techniques which can be implied to strengthen light in the optimal locations within a solar cell. As a result, it has been acquiring major acceptance from companies, which is expected to enormously drive the nanophotonics market growth in near future.
The global nanophotonics market is showing good promise due to increased demand for LED and OLED in consumer goods. LED has the highest demand thereby primly driving market growth compared to OLED whose growth is estimated to be at lowest. Also, there are various government policies and support for energy-efficient lighting which is fueling the growth of the market. However, issue of large-scale production, higher expense rate than incandescent lamps and limited investment are some of the prominent factors restraining the market growth. Moreover narrowing expense difference and advancement of technology is leading to numerous future scope and opportunities in nanophotonics market. Furthermore, the energy-efficient designs offered by nanophotonics technology are also supporting many opportunities in global nanophotonics market.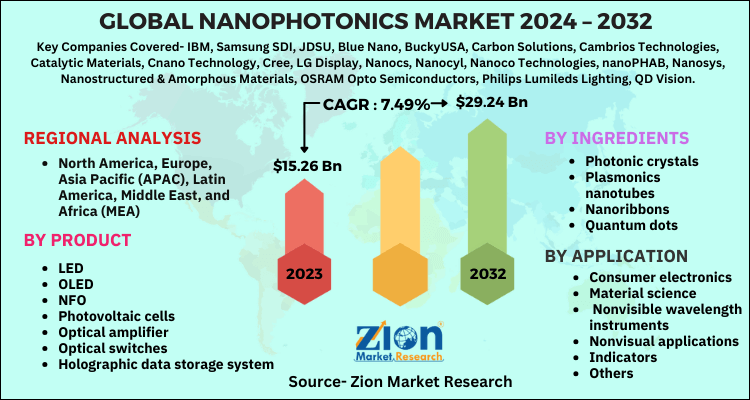 Nanophotonics market is segmented on the basis of components, ingredients, applications and regional. The component segment of the market includes LED, OLED, NFO, photovoltaic cells, optical amplifier, optical switches and holographic data storage system. On the basis of an ingredient, the nanophotonic market is further classified to photonic crystals, plasmonics, nanotubes, nanoribbons and quantum dots. Application wise the market is bifurcated into consumer electronics, material science, nonvisible wavelength instruments, nonvisual applications, indicators and other applications.
Geographically nanophotonics market has been divided into five regions North America, Europe, Asia-Pacific, Latin America and Middle East & Africa. The nanophotonics market in North America includes the U.S. while Europe is divided into the U.K., France, and Germany. Asia Pacific market includes China, Japan, and India. North America is the biggest market for nanophotonics. Nanophotonic LED is majorly escalating the growth of the market in the U.S. followed by Europe.
Some of the prominent players playing major role in nanophotonics market are IBM, Samsung SDI, JDSU, Blue Nano, BuckyUSA, Carbon Solutions, Cambrios Technologies, Catalytic Materials, Cnano Technology, Cree, LG Display, Nanocs, Nanocyl, Nanoco Technologies, nanoPHAB, Nanosys, Nanostructured & Amorphous Materials, OSRAM Opto Semiconductors, Philips Lumileds Lighting, QD Vision, Quantum Materials, TCL Display Technology, Universal Display and others.