Analysis
Nanoemulsion is the novel drug delivery system or targeted drug delivery system that consists of water and emulsified oil with an average droplet diameter ranging from 50 to 1000 nm. Water in oil and oil in water are the two types of emulsion phases, which depends on the core particle that is either water or oil. The nanoemulsion-based drugs provide increased bioavailability of the drug molecule by providing target specific drug delivery. The nanoemulsion technique is used for drugs or active pharmaceutical ingredients whose solubility is low to poor. The nanoemulsions have good capacity to dissolve low soluble drugs and protect the drugs from enzymatic degradation or hydrolysis. The major advantages of nanoemulsions as drug delivery carriers include improved drug loading, enhanced bioavailability and drug solubility, controlled drug release, and reduced patient variability and protection from enzymatic degradation. This is the major factor driving the global nanoemulsion market. Nanoemulsions have extensive applications in different fields like food technology, pharmaceutics, and cosmetics. The pharmaceutical application of nanoemulsions includes the various routes of administration, which is another factor supporting this global market's growth. Recently, nanoemulsions are commonly used for delivery of DNA-encoded drug, vaccine, antibiotics, and topical preparations, which, in turn, will generate new growth opportunities for the nanoemulsion market globally in the future.
Based on drug class, the global nanoemulsion market includes anesthetics, steroids, NSAIDs, immunosuppressant, antimicrobials, antiretroviral, vasodilators, and others. NSAIDs are expected to register notable growth in the future, owing to the increasing NSAIDs usage for various applications. By route of administration, the global nanoemulsion market includes topical, parenteral, oral, and nasal. By distribution channel, the global nanoemulsion market includes retail pharmacy, hospital pharmacy, and online pharmacy. Retail pharmacies are estimated to dominate the global nanoemulsion market over the estimated time period.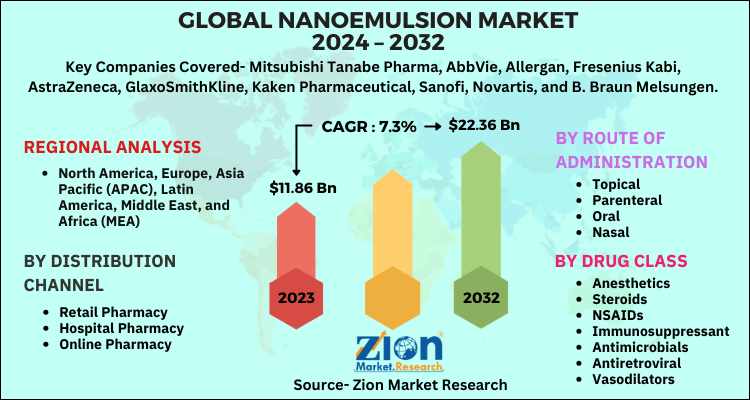 By region, North America is expected to dominate the global nanoemulsion market over the forecast time period. Well-established biotechnology and pharmaceutical and industries, rising number of research activities for new drug development, increasing prevalence of chronic disorders, growing technological advancements in drug delivery techniques across the region are expected to boost the North American nanoemulsion market in the years ahead. Asia Pacific nanoemulsion market is projected to grow at the highest rate during the projected time period, owing to the increasing income of people and altering regional demographics.
Some major players operating in the global nanoemulsion market are Mitsubishi Tanabe Pharma, AbbVie, Allergan, Fresenius Kabi, AstraZeneca, GlaxoSmithKline, Kaken Pharmaceutical, Sanofi, Novartis, and B. Braun Melsungen.