Analysis
Myelofibrosis is a bone marrow cancer or a serious type of leukemia which affects the normal production of blood cells resulting in weakness, anemia, fatigue, and often enlarged spleen. This disease is caused due to the genetic mutation in blood stem cells. These mutated cells keep on dividing themselves which leads to the reduction of red blood cells and can lead to anemia. These genetic mutations in the cells can be caused by various factors such as exposure to radiation, certain chemicals such as benzene or toluene, and other blood cell-related disorders. This disease can be diagnosed by physical examination, blood tests, imaging tests, and bone marrow examination to confirm the presence of disease. Various symptoms such as feeling tired and weak, shortness of breath, fever, easy bleeding, a feeling of pain in bones and joint are observed in the patients of myelofibrosis. This condition can be treated by different therapies, medication, or stem cell transplant.
The epidemiology of myelofibrosis is increasing in the developing economies which results in the increase in demand for treatment options over the forecast period. There are various companies conducting research studies and investing a lot of money in R&D for the development of myelofibrosis drug. There are various drugs which are currently developed by different companies such as CYT387 which is being developed by Gilead Sciences Inc.; CTI BioPharma is trying to modify Pactritinib so that it can be used for the treatment of myelofibrosis and others. Increase in genetic disorders, smoking, reimbursement conditions, and living conditions are also expected to support the growth of myelofibrosis treatment market over the forecast period.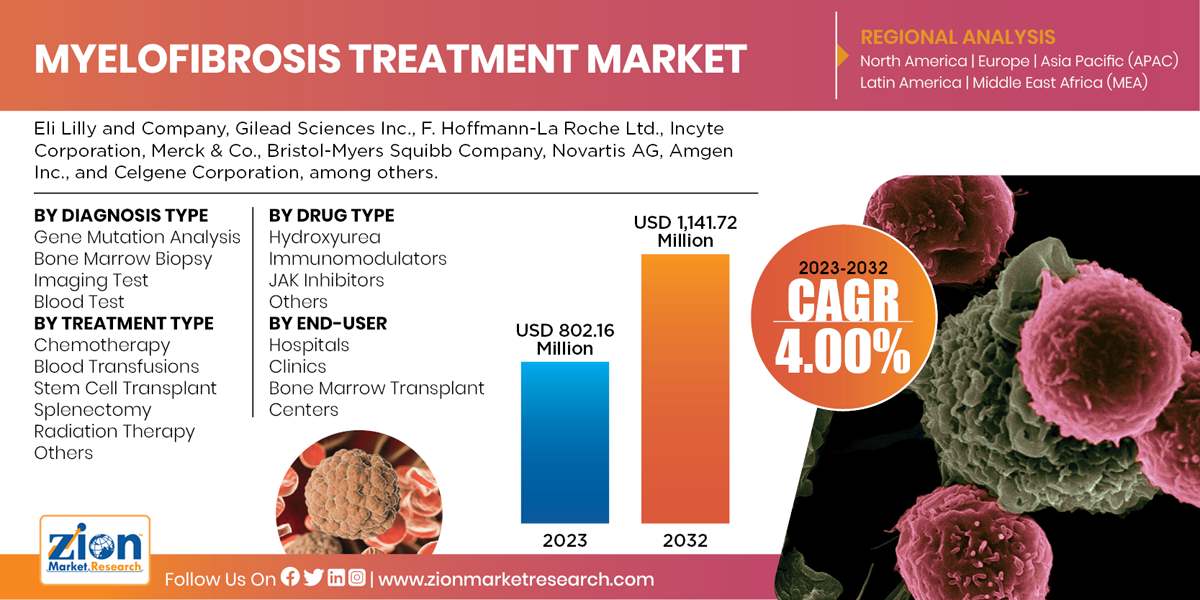 Based on the diagnosis type, the myelofibrosis treatment market is segmented into gene mutation, bone marrow biopsy, an imaging test, and blood tests. Treatment type segmentation includes chemotherapy, blood transfusions, stem cell transplant splenectomy, radiation therapy, and others. Based on drug type, the myelofibrosis market is segmented into hydroxyurea, immunomodulators, JAK inhibitors, and others. On the basis of the end user, the myelofibrosis treatment market is segmented into hospitals, clinics, and bone marrow transplant centers.
North America is expected to remain the dominant region over the forecast period which is closely followed by Europe. Due to an increase in the prevalence of myelofibrosis in these regions and an increase in R&D for drug development are aspects expected to support the growth of the myelofibrosis treatment market. The Asia Pacific is expected to be the third largest growing region for the myelofibrosis treatment market due to increase in healthcare facilities, increase in disposable income and an increase in the prevalence of disease. Latin America and the Middle East and Africa are expected to grow moderately over the forecast period.
Some of the key players in myelofibrosis treatment market include Eli Lilly and Company, Gilead Sciences Inc., F. Hoffmann-La Roche Ltd., Incyte Corporation, Merck & Co., Bristol-Myers Squibb Company, Novartis AG, Amgen Inc., and Celgene Corporation, among others.