Analysis
A motion simulation platform is used to increase accuracy and productivity by eliminating errors while performing the required on-field duties. Due to the growing complexity of commercial products and increasing competition to innovate new designs swiftly, engineers are under immense pressure to enhance the spectrum of simulation beyond the arithmetic area.
The global motion simulation market is likely to grow notably in the future, owing to the adoption of numerous technologies by various sectors due to its numerous applications in airports, military, healthcare, mining, and R&D. The growing security concerns are also driving the motion simulation market globally. Moreover, the growing adoption of motion simulators by automotive manufacturers to layout vehicle interiors or improve the driving assistance gadget is predicted to also propel the global motion simulation market. For instance, in May 2018, the VI-grade GmbH disclosed that Subaru, an automotive manufacturer based in Japan, adopted compact driving simulators. Furthermore, the increasing use of diverse in-vehicle infotainment systems, which includes a navigation system through satellite, e-mail, mobile phone connectivity, etc., has also pushed this market's growth. However, the high investments involved in the research and development of motion simulation in commercial applications may hinder the global motion simulation market development.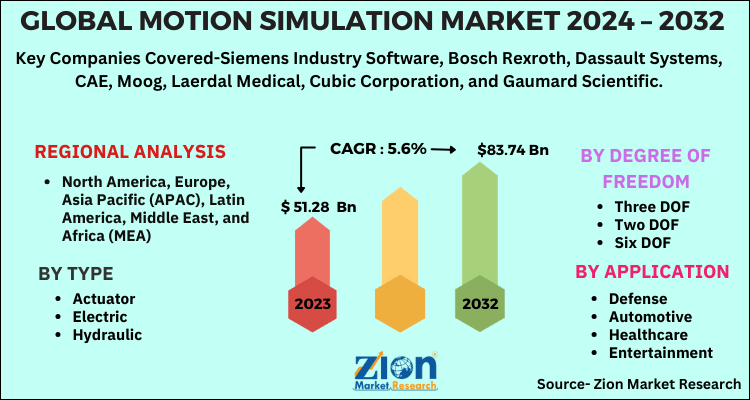 By type, the global motion simulation market includes an actuator, electric, and hydraulic. The degree of freedom segment includes two DOF, three DOF, and six DOF. By application, the market is fragmented into defense, automotive, healthcare, entertainment, R&D, mining, textile, and sports. The defense sector is anticipated to grow at a substantial rate over the projected time period, due to the surging demand for military training program and aircraft vehicle simulation system for improving the security and safety of soldiers, defense machinery, and equipment. Moreover, the rising use of motion simulation in the entertainment industry is also growing, which is also driving this market.
By region, the Asia Pacific motion simulation market is anticipated to grow substantially in the years ahead, owing to the increased spending on countries' security. The defense in modern aircrafts training via motion simulation helps in saving cost, time, and money. Furthermore, entertainment and gaming sectors have also started attracting motion simulation for gaming purpose and are expected to propel the demand for motion simulation. In addition, the R&D for advanced technologies in the automotive sector also driving this regional market.
Some noticeable players of the global motion simulation market are Siemens Industry Software, Bosch Rexroth, Dassault Systems, CAE, Moog, Laerdal Medical, Cubic Corporation, and Gaumard Scientific.