Analysis
A motion sensor is a type of electronic sensor used to detect motions of the device. It is integrated into a system as a component which automatically alerts a user of motion in an area. The multi-touch technology is an emerging technology that revolutionizes the way humans interact with machines for infotainment applications.
Key factors which are driving the motion sensor market are increasing adoption of motion sensor technology in different application areas. Motion sensors are basically used in smartphones, tablet, and mobile devices. In smartphones, inertial sensors are MEMS accelerometers gyroscopes are integrated. In addition, motion gaming is the new trend in the market which is used to perform multiple activities like running, cycling, and problem-solving. While playing these activities the user has to wear this sensor gadget to measure their movements. Due to the growth of the automotive sector, the demand of motion sensor market is increasing greatly. However, easy availability of substitute at lower cost and limitations of some sensors are restraining the motion sensors market growth. Moreover, technological advancement and increasing application of motion sensors in different sectors will impel the demand of motion sensors in next coming years.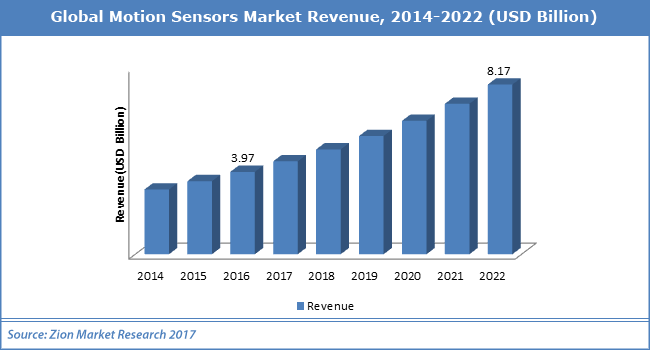 Based on the type the motion sensor market is segmented into MEMS gyroscope, MEMS magnetometer, MEMS accelerometer and sensor combos. Among these motion sensors, accelerometer dominated the motion sensors market due to its uses in earthquake detector and also use medical sector. The magnetometer is used for calculation of magnetic material such as military, mobile devices and oil exploration.
On the basis, motion control market is segmented into the infrared sensor, tomographic sensor, microwave sensor, ultrasonic sensor, and others. Infrared sensor dominated the market and expected to retain its dominance over the forecast period. Also, microwave sensor is also dominating the motion sensor market followed by infrared motion sensors market. New construction sites such as private residences, shopping complexes, public buildings, office buildings, and airports are installing systems such as escalators, automatic doors, and automatic taps, which deploy PIR motion sensors. The tomographic motion sensor is used in large area detection because it can sense from wall and obstructions.
Europe is dominating the motion sensor market due to major semiconductor companies and equipment manufacturer are mainly focus on business expansion and setting up the new plant for increasing production capacity. Asia Pacific has also significant potential for consumer electronics and industrial application which is fueling the growth of the motion sensor market.
Freescale Semiconductor, Ltd., ST Microelectronics, Murata Manufacturing Co. Ltd., Analog Devices, Inc., Honeywell International, Inc., Microchip Technology, Inc., Invensense, Inc., Kionix Inc, Bosch Sensortec GmbH and Memsic Inc are the major motion sensor suppliers.