Free Analysis
The mobile wallet also is known as m-wallet is an innovative technological feature. It is an online interface that offers ease of carrying the money or cash like the physical wallet. This is the simple way to carry credit card or debit card information in a digital form on a mobile device. Instead of using a physical plastic card to make payment, payment can be easily done by smartphone, tablet, or smart watch.
A mobile wallet is very convenient, easy and safe way of payment. Increasing awareness of comfort, convenience, and adoption of the smartphone is a key driver of the mobile wallet market.Additionally, high growth in e-commerce is anticipated to fuel the growth of mobile wallet market during upcoming years. However, increasing hacking and fraud cases along with the lack of trust can impact the growth of the market. Although, these challenges are prevalent, many companies from telecom sector are collaborating with each other to provide better service to end user.Many businesses are now focusing on security to provide safe service to end-user and technological advancements are together boosting mobile wallet market growth. Currently, the mobile wallet is largely adopted by different businesses across the globe that will increase the revenue, reduce operation cost, augment safety from thefts and improve end-user satisfaction.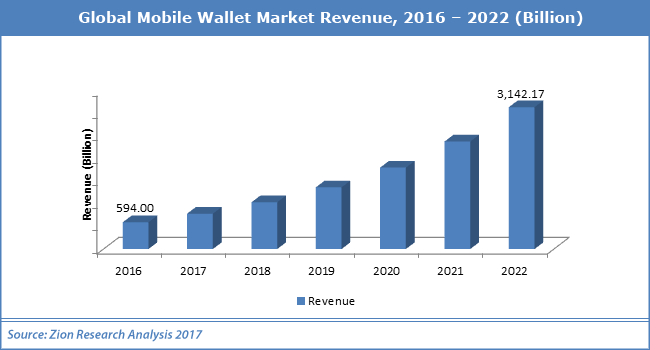 Mobile wallet market is segmented on the basis of product, application, and geography. Product segment is the ways to make the payment which include near field communications (NFC) and remote payment. Recently, remote payment is dominating the market as many payments is done out of the states or country. The high amount of payment and transaction can be done through remote payment. NFC payment is also in growing phase as there are several NFC compatible smartphones such as Google's Nexus Series, Samsung's Galaxy Series, and the iPhone are providing NFC payment option. Mobile wallet market has high growth potential due to considerable growth of e-commerce industry.
On the basis of the application, the market has been segmented retail payments, vending machines, public transportation, restaurants and others. Retail and restaurants segment are growing rapidly due to increasing demand of online clothes, cookery, and grocery and easily available cooked food items. North America is a leading region for the mobile wallet market due to its enormous efforts to convert its economy into the digital economy. Europe is also growing with robust growth rate followed by Asia Pacific. In Asian countries, there is a high growth opportunity for mobile wallet payments due to high adoption of smartphones.
Key industry participants in the global mobile wallet market include American Express, Apple Inc., Amazon.com inc., Bank of America, Citibank, Citrus Payment Solutions, Dwolla, MasterCard, Visa, AT&T, Sprint, First Data, BlackBerry, Samsung, Google, Paytm, and others.