Analysis
Mobile satellite service is a network of communication satellites to use with portable wireless telephones and mobile phones. It is a type of mobile telephone service that uses portable terrestrial satellites. The technology of satellite communication uses satellite to transfer signals from the transmitter to the receiver. Use of satellite in telecommunication services delivered from or to the mobile users is known as mobile satellite service. The mobile satellite service can be used by global users who are in remote areas or are on the go.
Currently, the quick emergence of technological advancements needs to be backed by a strong communication system, such as mobile satellite services. The technological advancements have led to the emergence of traditional terrestrial mobile phones with the satellites, which are driving the mobile satellite services demand. Thus, experts have anticipated the advent of new technology and technological advancements as a major driver of the mobile satellite services market. Moreover, in case of emergencies, portable mobile satellite services can be extremely helpful. Thus, there's a growing demand for mobile satellite services, especially in calamities prone area, which is further driving the mobile satellite services market. Additionally, the mobile satellite services market growth can also be credited to the network flexibility, such as the use of MSS in remote areas that lack wired network options. The manufacturing, designing, and development of mobile satellite services process is time-consuming in nature and involves huge costs during the process, which may restrict the growth of the mobile satellite services market. Alternatively, the governments across the globe are taking momentous efforts to introduce satellite and navigation systems, which are likely to create new growth opportunities for the mobile satellite services market over the projected period.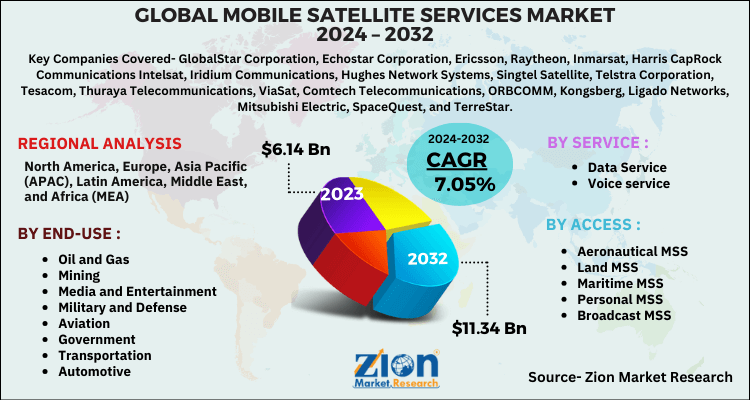 On the basis of end-use industry, the mobile satellite services market includes military and defense, transportation, mining, oil and gas, aviation, media and entertainment, government, automotive, and others. The military and defense sector is anticipated to show steady growth, owing to the growing adoption of various satellites and cellular services globally. Additionally, the consolidation of COMSAT with Iridium in March 2018 is estimated to provide secured global communication to the government and military users.
The Asia Pacific mobile satellite services market is likely to grow significantly in the future, owing to the faster regional adoption of cellular services and mobile satellites. Moreover, the regional governments are escalating their efforts toward the implementation of the 5G technology along with the rising penetration of Internet of Things and smartphones in the region.
Some key players of the mobile satellite services market are GlobalStar Corporation, Echostar Corporation, Ericsson, Raytheon, Inmarsat, Harris CapRock Communications Intelsat, Iridium Communications, Hughes Network Systems, Singtel Satellite, Telstra Corporation, Tesacom, Thuraya Telecommunications, ViaSat, Comtech Telecommunications, ORBCOMM, Kongsberg, Ligado Networks, Mitsubishi Electric, SpaceQuest, and TerreStar.