Analysis
The global mobile accessories market is expected to witness positive growth within the forecast time period. Mobile phone accessories are external devices designed by manufacturers to increase the functionality of mobile phones. Mobile phone accessories are as important as a mobile phone in our day-to-day lives. The growing number of smartphone users and the declining prices of these accessories due to heavy competition in the market are expected to drive the global mobile accessories market. Moreover, technological innovations, such as wireless accessories, and low electricity and power requirements have also been aiding the mobile accessories market globally. Furthermore, the fall in the average selling price of mobile phones is attracting large groups of consumers from middle- and low-income groups to purchase mobile phone accessories, which will help in surging the demand for mobile phone accessories in the years ahead. However, the lack of standardization and the threat of piracy may hamper the global mobile accessories market. The market growth may also be hindered by the high demand for low-priced accessories along with the intense competition from the local players that offer products at competitive prices to the customers. Technological advancements are expected to provide new growth opportunities to the key market players in the future.
The global mobile accessories market is categorized into type, distribution channel, and price range. The type segment is fragmented into headphone/earphone, battery, charger, protective case, portable speaker, and others. The portable speakers and headphone/earphone segments have registered remarkable growth in the past few years, owing to their ability to operate efficiently with ease. The protective cases, on the other hand, have become a style statement. Printed protective cases with different initials, pictures, logos, and shapes are in high demand. The distribution channel segment includes online and offline. By price range, the market for mobile accessories is categorized into low, medium, and premium.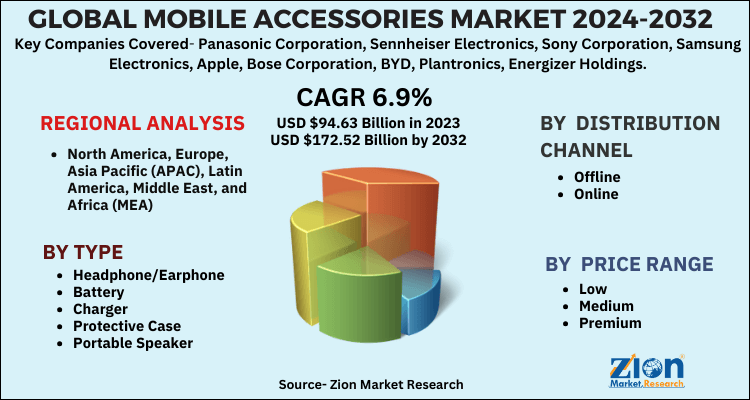 North America is the leading region for mobile accessories market globally, due to the high per capita income of the regional population. The end-users in North America prefer quality products that are trendy and branded, which, in turn, increases the regional demand for premium-priced mobile accessories. Moreover, the technological developments witnessed across the region are expected to further drive the North American mobile accessories market over the forecast time period. The Asia Pacific mobile accessories market is expected to witness significant growth in the future, owing to the large demand for mobile accessories r to meet the growing demands of rapid urbanization.
Some key participants operating in the global mobile accessories market include Panasonic Corporation, Sennheiser Electronics, Sony Corporation, Samsung Electronics, Apple, Bose Corporation, BYD, Plantronics, Energizer Holdings, and JVC Kenwood Corporation.