Analysis
Mining is the process of obtaining minerals and rare metals from deep inside the earth. It can be defined, in the wider sense, as the extraction of non-renewable resources, such as petroleum, natural gas, coal, limestone, etc.
The rising demand for metals and minerals and the increasing consumption have positively influenced the expansion of the mining equipment market and are likely to play a major role in encouraging the mining equipment manufacturers to offer technologically advanced equipment in the future. This, in turn, is expected to help them to perform mining operations in a better way, such as crushing, drilling, and pulverizing. Moreover, increasing mining activities and the rising use of automation in mining operations are likely to boost this market during the forecast time period. Furthermore, the growing trend of transitioning to digital mining is the major growth factor in the mining equipment market. Major mining sites are on the verge of adopting automated drones, vehicles; most of these devices use IoT (Internet of Technology) sensors to capture real-time data. For instance, Rio Tinto Group implemented 3D mapping at the West Angelas mining sites to improve mining exploration activities. However, high machinery cost and lack of skilled personnel might hamper this market's growth in the upcoming years. Additionally, high maintenance costs and lack of appropriate training to handle the equipment are estimated to pose serious challenges in this market's growth in the years to come.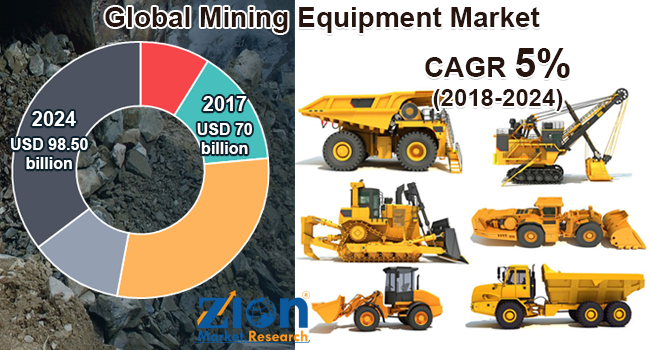 By product, the mining equipment market is segmented into mineral processing equipment, surface mining equipment, mining drills and breakers, underground mining equipment, crushing, pulverizing, and screening equipment, and others. Based on application, this market is categorized into metal mining, coal mining, and mineral mining.
Based on geography, Asia Pacific is likely to emerge as the leader in the mining equipment market during the forecast time period, due to the increasing demand for minerals from emerging economies, such as India and China. Increasing infrastructural developments are anticipated to enhance coal's demand in this region, as it is one of the most significant raw materials for manufacturing steel and cement. In addition, governmental efforts related to consolidating coal mining companies are projected to open new growth avenues for this market in the upcoming years.
Some of the major players operating in the mining equipment market are Caterpillar Inc., CNH Industrial NV, Bradken Limited, Sandvik, Komatsu Ltd., Joy Global, AB Volvo, Astec Industries Incorporated, Hitachi Co. Ltd., Hyundai Heavy Industries Company Limited, Metso, Doosan Group, Wirtgen Group Holding GmbH, RCR Tomlinson Limited, Atlas Copco, Techint Group, Bell Equipment Limited, and Liebherr Group and among others.