Analysis
Medical imaging has led to improvements in the diagnosis and treatment of various medical conditions in adults and children. X-ray imaging examination is considered as an important medical tool for a wide range of procedures and examinations. The benefits of medical imaging systems include a noninvasive and painless procedure for disease diagnosis and monitor therapy. It also supports medical and surgical treatment plan and provides guidance for medical personnel as they insert catheters, stents, or other devices inside the body, for the treatment of tumors, or remove blood clots or other blockages. Such factors are expected to witness significant growth for global medical x-ray over the forecast period.
The Radiation Emitting Devices Regulation recommends safety performance. Medicare payment is expected to decrease by 20% in 2017, for providers who submit a claim for examination with analog x-ray under the provision Consolidated Appropriations Act. Furthermore, growing aging population base across the world undertaking x-ray examination are significantly increasing. As elder population are more prone to acquire chronic diseases and will increase demand for medical x-ray in the coming years. However, increased risk of exposure to high radiation among patients and high cost associated with the installation of medical imaging systems may hinder industry growth.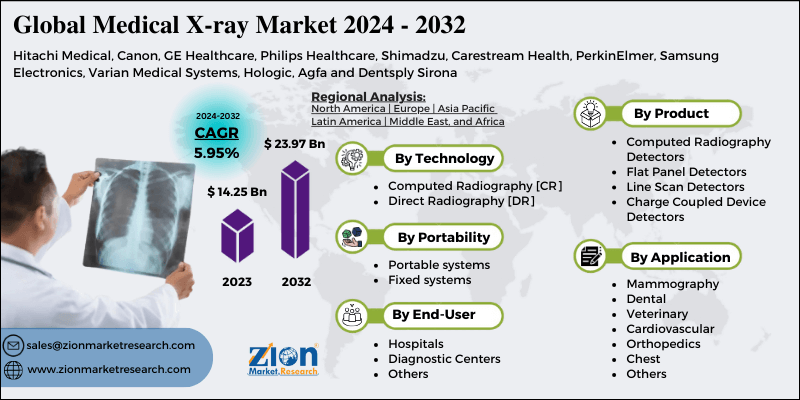 Based on product, the medical x-ray market is segmented into flat panel detectors, line scan detectors, computed radiography detectors, Charge Coupled Device Detectors [CCD]. On the basis of technology the market is segmented into Computed Radiography [CR] and Direct Radiography [DR]. Based on application, the market is segmented as dental, veterinary, mammography, chest, cardiovascular, orthopedics and others. Based portability market is segmented as portable and fixed systems. Based on end users the market is segmented into diagnostic centers, hospitals, and others.
North America held a major revenue share of the global medical x-ray market for in 2017 and the region is anticipated to continue with its regional supremacy over the forecast period. The growth of this regional market is attributed due to the high adoption rate of novel technology and presence of well-established healthcare infrastructure. Asia-Pacific is projected to grow at a significant CAGR, due to rising geriatric population, the high prevalence of chronic diseases that require diagnosis and treatment and increasing unmet medical needs.
Some of the key players in the medical x-ray market include Hitachi Medical, Canon, GE Healthcare, Philips Healthcare, Shimadzu, Carestream Health, PerkinElmer, Samsung Electronics, Varian Medical Systems, Hologic, Agfa and Dentsply Sirona. Industry players majorly focus on new product launch and long-term partnerships in order to gain maximum share in the market.