Analysis
The medical tourism industry is one of the rapidly growing industries across the world. People are adopting treatment method to travel abroad and get medical treatment for their health issue. Medical-based migration is mostly due to low-quality healthcare infrastructure and services and high treatment expenditure. Moreover, growing awareness level among people regarding advanced medical facilities are the foremost factors expected to drive medical tourism market growth over the forecast period. Developing countries are increasingly focusing on technological advancement and quality services in the medical and healthcare sector. However, tourists are associated with wide variety of health risks after they return. Medical conditions include deep vein thrombosis, TB, amoebic dysentery, paratyphoid, and many others; caused due to poor post-operative care and inadequate rest. Such factors are restraining the industry growth. Stringent documentation processes, visa approval issues, and inadequate insurance coverage are some of the factors which impede the growth of the medical tourism market.
Increasing investment in healthcare by various government and private sectors is anticipated to further upsurge industry growth. At present, more than 700 hospitals and medical departments across the globe are accredited by Joint Commission International (JCI) in the U.S. The number of accredited facilities is projected to increase by 20% almost every year. Accessibility and affordability for patients to good quality healthcare services with the support from tourism department and local government are expected to enhance the medical tourism market growth. Furthermore, availability of latest medical technologies in medical tourism, across the world is expected to drive the business growth.
Medical tourism decreases the cost of transport for the individual. Medical tourism offer benefits to businesses, government, and residents. The tourism industry is economically benefited as a result of medical tourism which includes more jobs in the tourism sector, additional money in the economy, and healthcare industry. Medical tourism has an impact due to a decline of cyclicality and seasonality diversification of tourism consumer base to attract other high revenue support industries.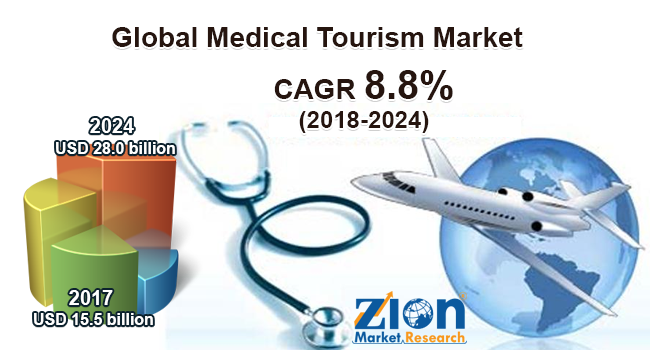 Based on treatment type, the medical tourism market is segmented into cancer treatment, orthopedic treatment, fertility treatment, cardiovascular treatment, neurological treatment, and others.
North America held major revenue share of the global medical tourism market in 2017 and the region is anticipated to continue with its regional supremacy over the forecast period. Increased investment and growth in the number of international accredited facilities have improved quality of care and its perception among patient in the region which is expected to drive industry growth in the future years. Asia Pacific is anticipated to grow at the highest CAGR, due to rising geriatric population base, the high prevalence of chronic diseases, and growing access and availability of healthcare facilities in the region.
Some of the key players in the medical tourism market include Fortis Healthcare, Bumrungrad Hospital Public Co. Ltd., Bangkok Dusit Medical Services, Asian Heart Institute, Prince Court General Hospital, Apollo Hospitals Enterprise Limited, KPJ Healthcare Berhad, Samitivej Sukhumvit, Spire Healthcare, Medanta, Min-Sheng General Hospital, IHH Healthcare Berhad, Raffles Medical Group, and others. Industry players are majorly focusing on collaboration agreement, mergers & acquisitions in order to provide better treatment facilities to patients.