Analysis
Nonwoven disposable products are an essential part of the healthcare field. Medical disposables made from nonwoven fabrics, which are gaining immense popularity due to their multiple advantages. Nonwoven medical disposables are an effective solution for sustaining hygienic conditions that help in averting infections and contaminations. Some important characteristics required in medical disposables are resilience, absorbency, elasticity, strength, and softness. Nonwoven medical disposable products are majorly used in surgeries and also used in maintaining incontinence hygiene.
Technological innovations in the production of nonwovens, increasing awareness regarding prevention of hospital attained infections, advancements in healthcare services and infrastructure in developing regions, increasing health awareness, rising disposable income, increasing geriatric population worldwide, rising dementia cases, accelerating funding provided by governments of developing regions for continence care, and rising number of surgeries are driving the global medical nonwoven disposables market. Constant improvements in the healthcare set-up, innovations related to nonwoven disposables, and initiatives taken by both private as well as government organizations to create awareness regarding incontinence products will generate additional opportunities for the medical nonwoven disposables market globally. However, environmental dilapidation caused by the dumping of incontinence products and the lack of awareness regarding disposable incontinence product usage will limit the medical nonwoven disposables market growth on a global level.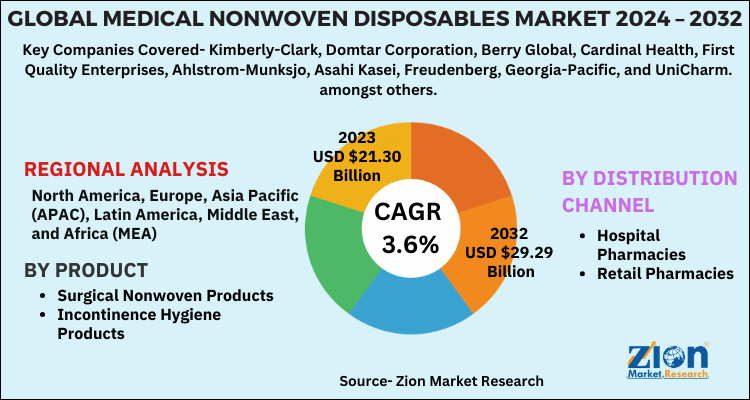 The medical nonwoven disposables market is split based on product and distribution channel. Based on product, the medical nonwoven disposables market has been segmented into surgical nonwoven products (surgical drapes, surgical caps, disposable surgical masks, surgical gowns, and others) and incontinence hygiene products (ostomy liners and incontinence pads, disposable underwear, disposables diapers, and others). Surgical nonwoven products are expected to dominate the market, with over 59% share, over the estimated timeline, owing to their multiple advantages. Incontinence hygiene products are expected to witness significant growth in the future. The distribution channel segment includes online, hospital pharmacies, and retail pharmacies. Hospital pharmacies dominated the market in 2018, due to their ease of accessibility for patients undergoing treatment in hospitals, rising number of surgical procedures, escalating birth rates, growing number of trauma cases, and linking of hospital pharmacies with nonwoven disposable product distributors. The online segment is expected to register the topmost CAGR in the years ahead.
North America will lead the medical nonwoven disposables market globally over the forecast time period. It accounted for over 39% of this global market in 2018, due to the high awareness regarding nonwoven disposables usage, growing dementia cases, and the regional presence of major manufacturers. Europe will hold the second spot in this global market, owing to the growing geriatric population, increasing chronic incontinence ailments prevalence, and escalating nonwoven disposables awareness. The Asia Pacific medical nonwoven disposables market will grow rapidly over the forecast time period, owing to the rising disposable diapers demand, due to the high birth rate, and growing awareness created by governments regarding medical nonwoven disposable products usage.
Some key players in the global medical nonwoven disposables market are Kimberly-Clark, Domtar Corporation, Berry Global, Cardinal Health, First Quality Enterprises, Ahlstrom-Munksjo, Asahi Kasei, Freudenberg, Georgia-Pacific, and UniCharm.