Free Analysis
Medical gas systems in hospitals are, in a word, lifesaving. These assemblies supply piped oxygen, nitrous oxide, nitrogen, carbon dioxide, and medical air to hospital areas such as patient rooms, recovery areas, operating rooms, and more. In hospitals, there are computerized alarm systems to monitor gas flow and alert hospital staff to any abnormalities. Medical gases are disposed of via vacuum equipment, generally supplied by various vacuum pump systems that exhaust to the atmosphere. It is necessary to establish a monitoring system to maintain a stable supply of medical gases. Medical Air can be referred to as a clean supply of compressed air which is used in hospitals and healthcare facilities to distribute medical gas. As it is free from contamination and particles, has no oil or odors, and is dry to prevent water buildup in your facility's pipeline. Many surgeons rely on the medical air compressor to keep the patient comfortable and breathing.
Enhancing home healthcare market is major drivers of Medical Gas Market. Additionally, increasing prevalence of respiratory diseases, the high prevalence of tobacco smoking, rising aging population and rapid urbanization are some of the other driver factors. According to World Health Organization (WHO), around 235 million people are suffering from asthma, and 383,000 deaths caused in 2015. The strongest risk factors for causing asthma are a combination of genetic tendency and environmental exposure to inhaled substances & particles which may provoke allergic reactions or irritate the airways. Substances including allergens like house dust mites in bedding, carpets and stuffed furniture, pollution and pet dander, pollens and molds, tobacco smoke, chemical irritants in the workplace and air pollution. In addition to enhancing home healthcare market, changing eating habits and execution of the U.S. Food and Drug Administration (FDA) Safety and Innovation Act leads to increased demand for the medical gas market. However, changes in medical gas calibration standards may restrain the market growth. Also, a worldwide shortage of helium and declining reimbursements policies for respiratory therapies may restrain the medical gas market. However, technological advancement in the medical gas market and market expansion strategy adopted by emerging countries creating opportunities in the medical gas market in the coming years.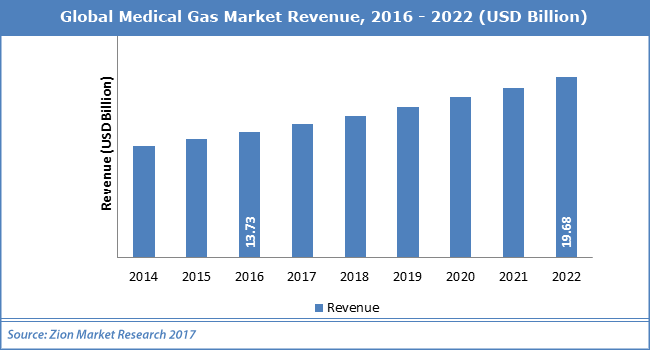 The Medical Gas Market is classified based on product, medical gas equipment, application, end user, and region. On the basis of product, the market is divided medical pure gases and medical gas mixtures. Medical pure gases are further classified into nitrogen gas, medical air, carbon dioxide gas, helium gas, nitrous oxide gas and oxygen gas. Medical gas mixtures are further classified into blood gas mixtures, lung diffusion mixtures, nitrous oxide-oxygen mixtures, carbon dioxide-oxygen mixtures, laser gas mixtures, aerobic mixtures, anaerobic mixtures, ethylene oxide, helium oxygen mixtures. Medical pure gases segment accounted for the largest share of the medical gases market. This is a major reason for the increasing use of medical gases for the diagnosis and treatment of various respiratory diseases. The growing incidences of chronic obstructive pulmonary disease (COPD), asthma, and other medical conditions such as cardiovascular and lifestyle diseases are further expected to drive the demand of medical gases and equipment during the forecast period.
On the basis of medical gas equipment market is segmented as manifolds, alarm systems, outlets, hose assemblies and valves, cylinders, regulators, flowmeters, medical air compressors, vacuum systems, masks. On the basis of the application, the market is divided into therapeutic, diagnostic and pharmaceutical manufacturing & research. On the basis of the end, user market is divided into hospitals, emergency services, the pharmaceutical industry, home health care and academic & research institutions.
By geography, North America dominates the medical gas market owing to the growing elderly population base and the rising prevalence of chronic diseases is expected to propel the sector growth in the region. In addition to growing elderly population base and the rising prevalence of chronic diseases, improved access to healthcare infrastructure, escalating demand for minimally invasive medical interventions and favorable industry initiatives such as the implementation of U.S. FDA Safety and Innovation Act will drive business growth. Owing to large population base countries such as India and china in the Asia Pacific region medical gas market is growing at fastest growth rate. Latin America is another key regional market and is expected to moderate growth in the coming years owing to rising healthcare infrastructure and raising awareness among the people. The Middle East and Africa are anticipated to witness significant growth during the forecast period.
Some of the key players in Medical Gas Market include Air Products and Chemicals, Inc., Air Liquide, Atlas Copco, Airgas, Praxair, Inc., GCE Holding AB, The Linde Group, Taiyo Nippon Sanso Corp., SOL-SpA, Inc Messer Group, and others.