Free Analysis
In the last decade, production and development of different robotic technologies that amplify human strength have been one of the major trends in the robotics sector. Many industry players have introduced technologically advanced human exoskeletons, which have many industrial and medical applications. Human exoskeletons are also called wearable robots provide a skeleton outside a person's body that acts as a body extension. These extensions help humans to produce more power like a machine. These exoskeletons are gaining popularity due to their ability to support humans in dynamic conditions. They can assist a disabled person in carrying out different activities. These devices could reduce back injuries and other mishaps in industries, where injuries are a common thing. Various human exoskeleton prototypes and models are being used in physical therapy and are being deployed in several rehabilitation centers, for lower and upper limb therapy. Growing adoption of human exoskeletons in rehabilitation therapy for disabled and elderly patients around the world is expected to fuel the growth of medical exoskeletons in the upcoming years.
The medical exoskeleton market is expected to witness a robust growth in the future. This market is mainly driven by an increase in the number of disabled people and the geriatric population and rising incidence rate of physical injuries and muscle pain due to an unhealthy lifestyle. Moreover, subsequent growth in the demand for effective rehabilitation approaches and increasing R&D expenditure of the key players in the development of medical exoskeletons are driving the growth of the medical exoskeleton market. Growing technological advancements in the production of new and lighter skeleton materials with advanced sensors, electronics, and software are anticipated to offer lucrative business opportunities in this market in the forecast timeframe.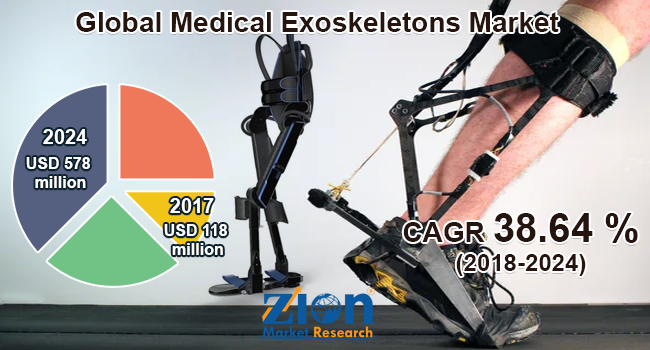 The global medical exoskeleton market is segmented based on component, extremity, mobility, and type. By component, this market is bifurcated into hardware and software. The hardware segment is further sub-divided into actuators, power sources, control systems, and sensors. The software segment is anticipated to grow at a higher annual growth rate during the forecast period. This growth rate is due to technologically advanced features offerings, such as inter-device connectivity functions, artificial intelligence, and autonomous operations. The software assists the complex functionalities of medical exoskeletons to process efficiently and accurately. By type, the medical exoskeleton market is classified into the powered exoskeleton and passive exoskeleton. The powered exoskeleton segment contributed the largest revenue share in 2017. The outsized share of powered exoskeleton segment was primarily credited to its broad usage in medical and industrial applications. By mobility, the medical exoskeleton is fragmented into the mobile medical exoskeleton and stationary medical exoskeleton. The market for mobile medical exoskeletons segment generated the maximum revenue in 2017 and is expected to grow at a significantly high CAGR in the forecast period, owing to its wide usage in healthcare, defense, sports, and fitness. By extremity, the medical exoskeleton market includes lower extremity medical exoskeletons and upper extremity medical exoskeletons. The lower extremities segment was the largest revenue grosser in 2017, owing to greater incidences of lower body disabilities.
Based on geography, the global medical exoskeleton market is divided into five regions: North America, Europe, Asia Pacific, Latin America, and the Middle East and Africa. North America is expected to remain the dominant region in terms of revenue generation followed by Europe. The Asia Pacific is projected to be the fastest growing market in the forecast timeframe. The Middle East and Africa and Latin America are expected to experience slow growth in the medical exoskeleton market in the upcoming years.
Some of the key players in medical exoskeleton market include Rex Bionics Plc, ActiveLink, Cyberdyne, Inc., ReWalk Robotics Ltd., Ekso Bionics, Lockheed Martin Corporation, Suit X, RB3D, and Hocoma, among others.